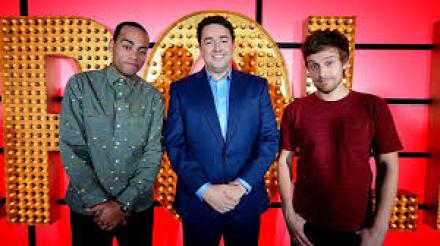 The second edition of the tenth, yes, tenth, series of Live at the Apollo was hosted by Jason Manford, who is about as safe a pair of hands as you can  get on TV. And I mean that in a good way. Some comedians are good live but don't seem able to make the smoothest of trnaditions to the small screen. Manford makes comedy on TV look like a doddle.
I know full well that there's a lot of effort involved in looking that relaxed, but Manford is a natural, putting the audience at ease with his opening set about the pleasures and pains of parenthood. In particular the problem of his kids disturbing him far too early: "No matter how much stuff I put in front of their door." 
This is genial, mainstream observational comedy at its best, but Manford knows how far he can go and is prepared to push it. He also has a great routine about his youngest daughter possibly being the spawn of the devil and another riff about one of his five-year-olds having so much fun she did a pooh in her pants. Manford wondered if anyone in the Apollo audience was enjoying the show quite that much.
Pooh was a bit of theme this week, cropping up in Chris Ramsey's set when the South Shields stand-up explained his dismay at Andrex using an advert to ask the nation if they scrunched or folded their toilet paper. Ramsey is another dead cert Live at the Apollo hit, with natural storytelling skill to burn. It's not going to bring down governments but it did bring down the house.
Doc Brown was the more interesting act of the three, moving things away from trad stand-up. While never spelling it out he touched on race with a section about how he feels awkward in certain situations because he is no longer street enough. His set-piece, a freestyle rap about authority – "Prejudiced policeman, what's the reason?" – had a great pay-off and there was some sharp physical humour as he posed and shimmied across the stage as he delivered it.
There has been a bit of chat on Facebook among stand-ups since the show's broadcast about Brown telling a joke that wasn't entirely original – a quip about an area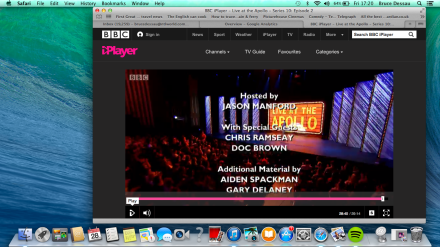 being called "vibrant" which is the sort of thing a less-then-scrupulous estate agent might say about a violent area. It's probably an old gag that has been around in some form for as long as estate agents have been flogging dodgy properties. Brown may well have innocently come up with the gag himself as often happens in stand-up. He is not the first to tell a variant of this. I doubt if he will be the last either.
But while fellow comics might be bothered by this, for viewers this is a small quibble. If it gets a chuckle it is in. Once again it's the editing that deserves part of the credit for making this such a good showcase for comedy. Not a second is wasted, the emphasis is purely on cramming in as many laughs as possible. It's a shame the same attention to details wasn't paid to the credits though – at the end of the show Chris Ramsey was listed as "Chris Ramseay".  
Watch this episode on iPlayer here.