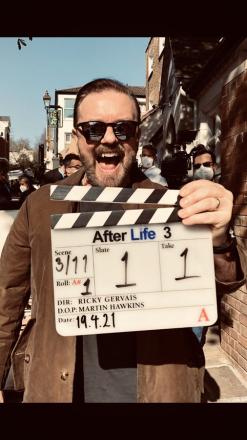 A 'Coming Soon' clip has bee released for the eagerly awaited third series of the Ricky Gervais netflix series After Life.
No release date has been confirmed yet but in an interview on Radio 5 in June he said that the next series will be streamed either just before Christmas or after Christmas.
Very little information about season three has been revealed. The clip is mainly Gervais' character Tony romping with his dog in parks and on the beach backed by Queen's You're My Best Friend. The only thing Gervais has confirmed is that the dog doesn't die.
There was a cast and crew screening of the new series earlier this week and Peter Egan, who plays Paul, tweeted: "@rickygervais #AfterLife3 What a sensational evening watching Ep1&2 at the cast and crew screening tonight. It is the best of the best I can't wait to see 345&6 huge huge congratulations"
Watch Ricky Gervais in the new After Life trailer below
Picture: Ricky Gervais/Twitter