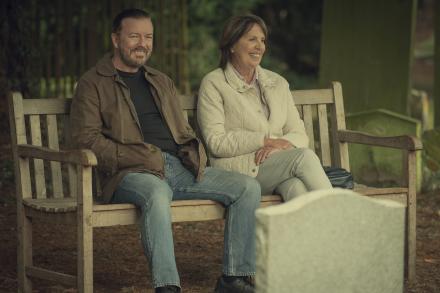 Ricky Gervais has given the strongest hint yet of when the third series of After Life will be streamed by Netflix.
Talking to Nihal Arthanayake on BBC Radio 5 he said that the next series will be streamed either just before Christmas or after Christmas.
Gervais also underlined that it will definitely be the last series. As with The Office and Extras he is taking his cue from John Cleese, whose Fawlty Towers ran for only two series and went out on a high. After Life will have run for three seasons, but Gervais said on the radio that he feels that this is the best season yet. He did not say much about the plot but he did reassure fans that the dog does not die. 
The After Life writer/star also revealed in the interview that he would not do a corporate gig however much money he is offered. He sometimes feels guilty because he knows he could do the gig and give the millions to charity but he is still scarred by an early gig just as The Office was going out for the first time which he hated doing. "If you can't be bought you're the richest person in the world," he explained.
Gervais has also been in the news having been honoured with a star on the Hollywood Walk of Fame. He is part of the latest list that also includes Just Mercy actor Michael B Jordan, Macaulay Culkin, Avril Lavigne, Ewan McGregor, Carrie Fisher and DJ Khaled.
The news was reported in the Reading Chronicle – Gervais is from Reading and when the story appeared he tweeted: "My mum would've been proud. Not about me being global megastar. Being in The Reading Chronicle, I mean."
Listen to the

Nihal Arthanayake 

episode that features Ricky Gervais here.  The interview starts at around 2:04.
Picture: Netflix