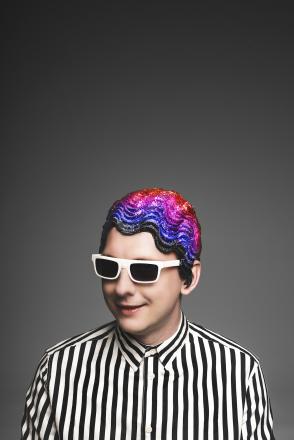 Joe Lycett has come clean about yesterday's walk-out on Steph's Packed Lunch and issued the following statement:
"Some of you might've seen or read that I had a 'tantrum' on Steph's Packed Lunch yesterday and 'stormed off' the show. This is absolutely true. What you might not know is: I planned the whole thing. Clear PET plastic bottles are widely recycled and contribute to the circular economy. If you put a clear PET plastic bottle in the recycling there's a good chance it will become another clear PET plastic bottle. Coloured and in particular white PET plastic bottles are much harder to recycle.
I explained this on Thursday's show, but later a picture with a bottle (made with white PET plastic) appeared on screen. Steph pointed out my apparent hypocrisy and I KICKED OFF (by 'KICKED OFF' I mean 'took my mic off and left the studio'). All of it was planned, all of it rehearsed. Today I seeded pictures of me drinking from one of these bottles which Greg James agreed to retweet. The tabloids loved it - Mummy's all over the press! The bottle in question? Yop. I risked my reputation as a jolly, affable and very-much-available chat show guest to say this as loud as I can: Yop, it's time to stop using white PET plastic. What you sayin' Yop?"
Lycett also appeared on Steph's Packed Lunch again to tell all. 
Some people were a little sceptical about his explanation, but others were delighted. Phil Parker tweeted: "@joelycett needs to be given a knighthood! Such clever ways to draw attention to the issues the media ignore whilst mocking said media at the same time. The man is a genius. Recommend his book Parsnips, Buttered too. Hilarious!"
Joe Lycett is a guest on Sunday Brunch on C4 on Sunday, August 15.
Read about what happened here.
Joe Lycett tour dates here.
Picture: Matt Crockett