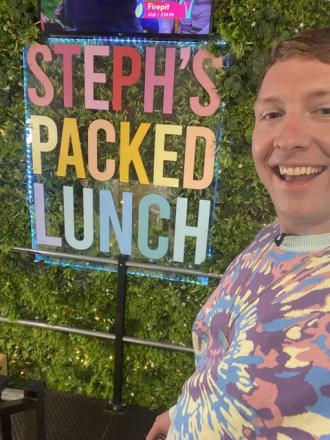 Comedian Joe Lycett shocked viewers by walking off the set of Steph's Packed Lunch on Channel 4.
Having been discussing single-use plastic and saving the environment Steph joked about the fact that a plastic water bottle could be seen in a picture of Lycett's garden, saying: ""Isn't that one of the bottles you said you'd stopped using in the picture?" Lycett replied: "I didn't realise I was on Newsnight, Steph."
The comedian, who has just announced a major tour, did not seem to see the funny side and as the show went to the break walked away and removed his microphone.
After the break he wasn't there but no full explanation was given for his absence, with host Steph McGovern just mentioning that he had to leave.
Lycett hasn't commented yet. On his Twitter feed his most recent post predates the show and features this picture here with the words: "I'm on @PackedLunchC4, LIVE at 12:30! @Channel4 !!!!!!"
Picture: Joe Lycett/Twitter