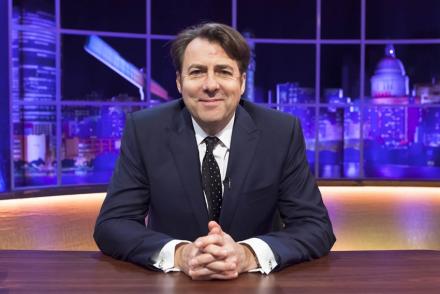 The Jonathan Ross Show guests this week include James Acaster, Tom Jones, Paloma Faith, star of Guardians of the Galaxy, Dave Bautista, former world champion boxer Nicola Adams, and the chart-topping Royal Blood, who will be performing in the studio.
It will be a particular treat for comedy fans to see James Acaster, who is one of the most distinctive and brilliant comedians to emerge in recent years, up there with Stewart Lee and Daniel Kitson as one of comedy's most original voices. He has released four stand-up specials on Netflix and this year released his latest, most acclaimed show, Cold Lasagne Hate Myself 1999, via his own website. Details here. He also fronts the fantasy foodie podcast Off Menu with Ed Gamble and co-hosts comedy show Hypothetical with Josh Widdicombe.
Acaster has been more honest than ever in his latest show about his mental health issues and has also spoken about the subject in podcast interviews recently. He talked about the fallout from his appearance on Celebrity Bake Off on the US podcast Good One and went on to say that he might no do stand-up again. Read more about that interview here. 
And he has also talked about the ups and downs of his career to fellow comedian Paul Chowdhry on his pudcast (sic). Chowdhry recalled introducing Acaster at a gig early in his career as James Alabaster.
Acaster told Chowdhry: "For me, I kind of felt better not doing stand up. I didn't realise for a long time that stand up...actually a more solitary life, a quiet life, makes me feel happier than necessarily seeing loads of people all the time. Stand up is seeing loads of people all the time and having them judge you. I don't think that really chilled me out very much." 
He spoke further about what happened when he started talking about his mental health onstage: "I guess I was in a bit of a naive headspace when I started talking about it, because I wasn't making this decision to talk about this taboo thing that no one talks about. I actually thought that it wouldn't be that big of a deal to talk about it. I thought I'm just being a comedian talking about my life and this is the kind of material I want to do at the minute.
I'd obviously heard people say stuff about starting the conversation and things like that but I always thought that was more of a thing of like, people who are going through mental health struggles don't want to talk about it so we need to get those people to open up and talk about it; I didn't think it was because society as a whole doesn't want to talk about this. And it was only when I started doing the material and stuff like that and getting pushback from some audience members or like, this whole Meghan Markle thing and people saying she's lying and stuff, you don't expect that reaction."
Listen to the full interview with Paul Chowdhry here.
The Jonathan Ross Show (with James Acaster), Saturday, May 15, 9,35, ITV1
Picture: ITV1