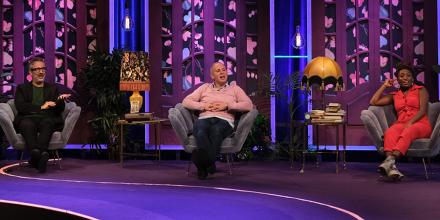 Dave's confessional chat show features David Baddiel, Rob Rinder and Sophie Duker this week (Tuesday, March 23).
Regular hosts are Mel Giedroyc and her trusty smutty sidekick Lou Sanders.
David Baddiel spills the beans on an inside joke that went awry, Sophie Duker confesses to catfishing and Rob Rinder divulges the truly awful way he got revenge in a case of unrequited love. Rob reveals how he caused a scene (and a puddle) in the courtroom, Sophie live-tweeted something she probably shouldn't have done, and David made a 5-year-old girl cry at a birthday party. 
Sophie Duker recently spoke exclusively to BTJ about her lockdown year and the prospects of future gigs. "For me, committing to the 2021 Fringe now is like agreeing to marry your former lover the day they get out of prison." Read the full interview here.
It's the last episode of the series but it'll be repeated I suspect and it's also available on catch-up on UKTV Play.
Unforgivable, Tuesdays, 10pm, Dave.
In this trailer from the show below David Baddiel tells Mel Giedroyc about the time his fellow Jewish friend Saul came to him for spiritual advice and found out he was the subject of a comedy tale of failed circumcision dreamt up by another of David's friends...