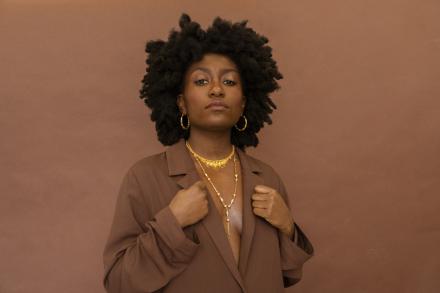 Sophie Duker's career got a kick start in the summer of 2019 when she was nominated for the Dave Edinburgh Comedy Award Best Newcomer prize for her sharp, funny show Venus. Duker is witty, clever and not afraid to express her opinions on all sorts of hot potato issues. Just before the pandemic caused comedy clubs to shut down exactly a year ago, she was running and compering her successful Wacky Racists night. While live comedy has been on ice during the pandemic Duker has been becoming a TV regular, appearing on Frankie Boyle's New World Order, Jonathan Ross' Comedy Club, The Last Leg, Richard Osman's House of Games and Hypothetical. Next Tuesday she is on Dave's Unforgivable. She also co-hosted The Science(ish) of Stranger Things, which you can watch here.
So Duker has certainly been busy. If you want to keep up with what she is doing, your best bet is to follow her on Twitter here. 
How has the last year been for you?
I no longer subscribe to the same naive notion of 'time' I did in late 2019, but I've cried a lot in my underwear, sure
When was your last pre-Covid gig?
My most cherished memory of a pre-pandemonium gig was hosting my comedy night Wacky Racists. I wore a mask (good) for comedic effect (bad) and high-fived at least 50 audience members (really quite shocking)
How have you coped financially? (did you do any non-comedy work?)
Ya girl started eating into her savings like the Very Hungry Caterpillar. Humblebrag, I have savings. Telly gigs and comedy writing (which I do a lot of) have also kept me financially fine. But pre-panna cotta I'd spent the last 6 years working multiple simultaneous jobs in and out of comedy so I was relatively insulated from the hit.
Did you get much government/arts council etc financial support?
LOL no. But I got the occasional endorphin rush by pretending the carers' claps were for comics (soz to the NHS)
Do you feel comedy has been let down by government/arts council?
Nightlife & live performance/entertainment industries have all been absolutely shafted. It really feels like comedy, especially initially, was completely overlooked or largely ignored. 
Is stand-up comedy art?
I think I'm parroting an answer another comic (Pascoe?) once gave to this - I agree with the idea that stand up comedy is first and foremost a craft, like building a chair. Chairs are made to be sat on and the first test I apply to my work is whether or not it's funny. But both chairs and stand-up can be beautiful and subversive and valuable. They can both also be wanky and overpriced or crappy cheap tat. 
Were you planning to do Edinburgh Fringe 2020?
I was planning to win Best Show, yeah.
Do you think there will be a Fringe in 2021 and if there is are you planning to do it?
For me, committing to the 2021 Fringe now is like agreeing to marry your former lover the day they get out of prison. 
What are your thoughts about online gigs? Are they any substitute for 'the real thing'?
I HATE online gigs. Comparing your average real gig to your average online gig is like comparing a Ferrero Rocher to a ball of chopped nuts, dirt and sand. 
That said, I can only applaud gigs like The Covid Arms, Always Be and Gigless, which are fun and weird and epic & make me love this community (especially the fans) so damn much 
Have you had Covid and if you have how are you now?
I haven't had Covid but I've had upward of ten tests so will be leaving lockdown with a very enviable lack of gag reflex
What about the future. Do you think the UK comedy scene has changed forever or do you think eventually it will go back to how it was?
It's not about IF it changes for me, it's about how it could and should be different going forward. I don't think I'll ever watch a stand-up spit in a paying audience member's mouth again, sadly. And we've lost a heartbreaking amount of talent. But we can set out to rebuild the scene so it's more accessible, more creative and far less cliquey and rapey. 
Do you keep your drawers tidy and if not why not? (have you really been too busy to tidy them recently?)
Fun fact re: me - the stuff in my drawers is always in bags ready to go. When the Rapture hits, or Elon Musk starts ferrying elites off this dying planet, I'll be first in line for the lifecrafts, dragged up as a rich white man who works in tech.
Follow Sophie Duker on Twitter here.