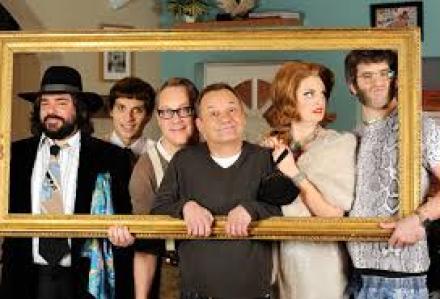 Update 18/3/14: Throw your hats in the air and dance a jig. A second series of House of Fools has been commissioned by the BBC. 
Some early reports have suggested that House of Fools is Vic Reeves and Bob Mortimer's first sitcom. I'm not sure if that is quite correct. Back in the heady days of Big Night Out  – was it really nearly a quarter of a century ago? – they did the one-off, just-plain-weird Weekenders for C4 in which they went to a meat raffle somewhere in the vicinity of Sheffield and met the Human League's Phil Oakey. Then in 2004 there was also Catterick for the BBC, which was a musical with a comic storyline.
I guess it just depends on the length of your memory and your definition of sitcom. But never mind the pedantry, I really enjoyed House of Fools. It may feel to some as if Vic and Bob are hitching their trailer to the broad comedy bandwagon of Miranda and Count Arthur, but of course they actually got in first – they've been being childish clots for years with the cartoon knockabout slapstick on their sketch shows and Shooting Stars. There is no frying pan-based violence in House of Fools, but in the first show Vic does get walloped repeatedly by a large wrench while stuck in a hole in a wall.
The basic premise is pretty back-of-a-fag-box slight. It's the everything-including-the-kitchen-sink execution combined with an attention to detail that makes this work. Bob is the straight man, Vic is the clown that lives with him in his garbage-strewn house and gets in the way of him leading a normal life. In the first episode Bob has a date lined up, but he didn't count for Vic and his flying gauntlet getting in the way. The gauntlet flies thick and fast and so do the gags, both visual and verbal. There are Tim Vine style-puns (have you ever had a "sandy tossvig"?), misplaced toupees, bits of Czech-style puppetry/animation, dream sequences and inevitable surreal flights of fancy, one involving Vic's exceedingly elastic testicles.
The duo do not hog all the best lines though. Matt Berry does another winning variant on his vain, dimwitted lothario schtick as Vic's chum Beef, Dan Renton Skinner (aka Angelos) steals a few scenes as Vic's Geordie jailbird brother Bosh and Morgana Robinson, who I'd never really taken to until now, stops the show from being totally male-dominated as their fruity neighbour Julie, who is forever asking men to buff her Barnaby Rudge. Oh, and dour Norwegian stand-up Daniel Simonsen plays Bob's creepy son who resembles an extra from the Addams Family. I won't go into the nitty gritty of the narrative as there are lots of surprises and it would frankly be mean to spoil them. 
Instead I will declare an interest here. About 15 years ago I wrote a biog of Vic & Bob. It wasn't exactly officially authorised, but they did scribble the phone numbers of some old school friends I could speak to on some fish and chip wrappers backstage at the Hammersmith Apollo. At the time I'd loved everything that the duo had done together, but soon after that they started working separately more often. Vic began to crop up on panel games and reality TV shows. He seemed to be appearing more with his wife Nancy Sorrell than with Bob and, as lovely as Nancy is, I preferred him when he was with Bob.
So for me House of Fools is a joy because it reunites them. They clearly still have their wild imagination as well as their brilliant rapport and chemistry. There is something slightly bizarre about seeing men in their mid-fifties behaving like children, but Vic and Bob have always behaved like children, so why should they stop now? Oh, and as for the question of whether they have made sitcoms before, House of Fools reminds me most of all of their greatest quasi-sitcom of all, Slade in Residence. 
House of Fools is on BBC2 on Tuesdays at 10pm. Read an interview with Bob Mortimer here in which he reveals some unlikely influences on House of Fools.
Here's a trailer
And here's a blast from the past