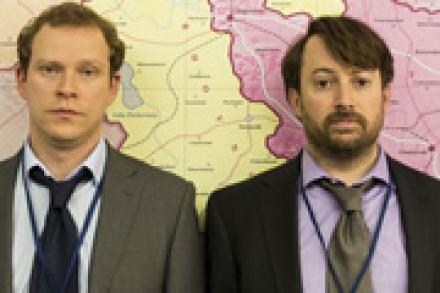 Update 6/11/13: Final part of Ambassadors tonight. This has been an enjoyable, all-too-short, departure for David Mitchell & Robert Webb. When I think of double acts moving into straighter acting roles together I guess the benchmark is Fry & Laurie as the admittedly more comedic Jeeves and Wooster, while then nadir was Hale & Pace in a long forgotten early version of detective drama Dalziel & Pascoe before Warren Clarke and Colin Buchanan took over.
One of my favourite acting departures, though it was not widely liked at the time, was Reeves & Mortimer in Randall & Hopkirk (Deceased). The drawback there was that Vic Reeves is not the world's most natural actor. Some might say the same about David Mitchell, but he has quickly grown into the role of the titular foreign representative of her maj's government Keith Davies. OK, some of his rabid rants might have felt like off-cuts from The 10 O'Clock Show at times, but those serio-comic foaming-at-the-mouth moments have been highlights of my recent TV viewing. Robert Webb has been similarly impressive balancing loucheness, laughs and something shadier. The various mysteries should all be resolved tonight – though I fear we may never find out precisely what plov really tastes like. Let's hope there is another posting for this talented twosome.*
Ambassadors - Episode One Review
Now this is interesting. David Mitchell and Robert Webb in something that isn't another panel show, sketch show or even a sitcom. Ambassadors features two of our most cherished, intelligent comedians dispatched to the fictional Central Asian Republic of Tazbekistan. David Mitchell plays uptight newbie British Ambassador Keith Davies and Robert Webb his chilled deputy, Neil Tilly.
Cue "Hennimore!"-style japes and "Are we the baddies?"-style misunderstandings? Not really. This one-hour/three-parter is more of a comedy drama, attempting to get the balance between the comedy and drama right. And in the first scene-setting episode they do it rather well. Apart from the occasional warty interpreter and meals consisting of ox penis and duck embryo this sensibly steers clear of Borat territory. True, the President is a bit of a gun-toting brute, but that is essential to the plot. 
What makes this particularly interesting is the way that the script doesn't really require M&W to play off each other. Although they do interweave, they also have two separate storylines, with Mitchell as the fish out of water having to learn fast and drink vodka fast with inevitable comic consequences while Webb's parallel plots are more seriously shady - having to come to the rescue of an imprisoned human rights protestor among other things. The comedy is not laugh-out-loud farce, the drama is not head-in-the-chip-pan frightening, but the two slot together very neatly.
Alongside these arcs there is also the visit of a pretentious thespy English actor, giving the Embassy his radical Frankenstein in which he plays both parts, to express the "duality" of the story. The serious/funny duality of Ambassadors, on the other hand, may come from the fact that one of the writers, James Wood, wrote Rev, while the other, Rupert Walters, worked on Spooks (the Spooks connection is also there in Keeley Hawes as Mitchell's wife and Matthew MacFadyen as the British boss seen on Skype).
There is a bit of politics here too – the morality of arms dealing – but we need not get too bogged down in this. Ambassadors is pretty gentle and ultimately fairly throwaway, but after coasting in panel shows (well, coasting compared to the early morning location shoots and lines-learning graft of, say, Peep Show) and nice-for-the-bank-balance voiceovers this is a chance for Mitchell and Webb to stretch themselves with some proper acting and a proper script. No need to be diplomatic in this preview, Ambassadors is genuinely top quality television. Just one thing missing. I guess Olivia Colman was too busy to join in.
Ambassadors is on BBC2 on Wednesdays at 9pm.
*Postscript. It was indeed a great finish with Casablanca-style airport escape, Mitchell & Webb both being heroes in their own ways and just when you thought it can't get any better along comes Michael Smiley as a stern-faced interrogator.