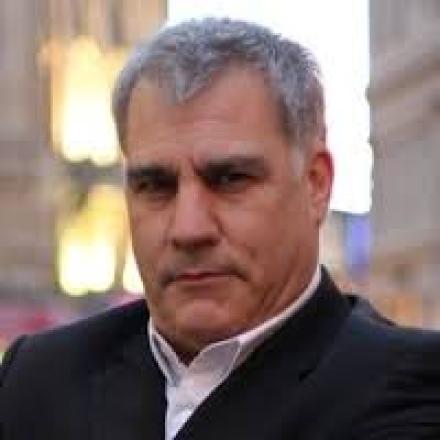 Benefit gigs are usually crammed with acts doing quick smash-and-grab sets, partly for the cause, sometimes to try out new material and sometimes, let's not beat around the bush here, to win new fans. This year's benefit for experimental radio station Resonance was different. There was an MC plus only three acts who all had the opportunity to do longer, 30 minutes-ish sets. The hipster stand-up fan could not imagine a better bill in their wildest dreams – Daniel Kitson compered, and Stewart Lee, Josie Long and, erm, Lewis Schaffer did sets. 
Kitson, of course, was his usual magisterial self, a master of passive-aggressive, alpha male yet self-deprecating banter. He explained that he had recently spent much of his time in a room on his own preparing for his imminent National Theatre run, so just being among people was making him giddy. Some sushi before the gig had also perked him up. He did his familiar schtick of brutally efficient put downs of the audience before introducing the guests and explaining the long-form format of the evening: "Enough time for them to be exposed as the frauds that they are and I will reign supreme."
Stewart Lee was on first, because, according to Kitson, he has "a swinger's party he needs to go to." I haven't seen Lee since the opening night of his lengthy London run last autumn, but he was on good form even if the audience needed  a little warming up. Lee seems to have adapted his style of late, making it more more accessible to the mainstream and yet more esoteric for the comedy congoscenti. An opening routine about the innate peskiness of dogs was easy on the ear and also worked as a set-up for some elaborate callbacks later on. 
And, naturally, a large part of Lee's act was the deconstructing of the act as he was doing it. A joke about letting his offspring watch the oeuvre of Kurosawa was subjected to a rigorous mid-set analysis which, of course, got more laughs than the actual joke itself. He also criticised the audience for simply laughing in a Pavlovian way at his comic rhythms. And got another appreciative laugh for it, before disappearing off to his swinger's party.
After the break and more first class Kitson repartee and some chat about his unreliable camper van,  Josie Long had the middle spot. I've always found Long's enthusiasm and sense of wonder about life to be utterly feelgood and impossible not to like. She revealed that she has recently had her heart broken and talked eloquently about knowing deep in your soul that a relationship is not working but having to stick with it anyway, as if you are a hostage. There were also some nice stories about her starkly different non-urbanite sister, who hates anything D-I-Y and lives in Maidstone "out of choice."
Long is certainly never less than infectiously gushy about intellectual self-improvement. She raved about the London Review of Books, Radio 3 (and Resonance)  and a secret poetry library she has recently discovered on the South Bank. She also revealed that she has now started using various mottos such as "Life's too short" or "Life's too long" – depending on the occasion. Not always hilarious, but I always feel like I have a spring in my mental step after a Long set.
And so to the gloriously unpredictable car crash of a comedian called Lewis Schaffer. Is life to long to spend 30 mins with Schaffer or is life too short? He was as bemused about why he was headlining this gig as most of the audience was. But he had also headlined the Resofit benefit last year (he has a show on the station) and had gone down well then, so maybe it was no surprise that he was back in the same spot. Besides, Stewart Lee had his swinger's party to get to and Josie Long wanted to go out for something to eat. 
Sadly lightning did not strike twice. Schaffer was nervous at the start and where good acts hit the ground running he was jittery and self-conscious and began to make the sympathetic, supportive audience feel awkward too. He said that he had been advised to change his set by others on the bill and was a bit thrown, jumping between newer routines and familiar old self-hating material about how he had ended up in London married to Ed Byrne's manager but had then had an acrimonious split but was staying in the UK to see his kids.
There was a decent number of laughs scattered around, but Schaffer was unable to sustain them and build on the momentum. At one point he even suddenly walked offstage for no reason. Maybe to help him gather his thoughts and courage. As he noted, this was a big gig for him, he was more used to playing small underground venues: "I've been in basements longer than Elizabeth Fritzl." A good gag if hardly topical.
Yet as quickly as Pupkin, sorry, Schaffer, lost the crowd, he won them back. A nasty heckle from one person in the audience got everybody else on his side again and it looked as if he was going to snatch victory from the jaws of defeat. Yet once again a triumph slipped from his grasp. I recently heard about a political polling system called the Worm where second-by-second real-time responses can be charted to see how a political speech is going down. If the Worm was being used during this set it would have hit stratospheric highs and stupendous lows. 
I think Schaffer is disconcertingly terrific. He is compelling, unique and most of all unpredictable, which may not make him the funniest comedian around - particularly not on a bill like this – but it does make him one of the most interesting acts. Go see Schaffer - he may not make you laugh your socks off but he is never dull. You certainly won't forget him in a hurry.