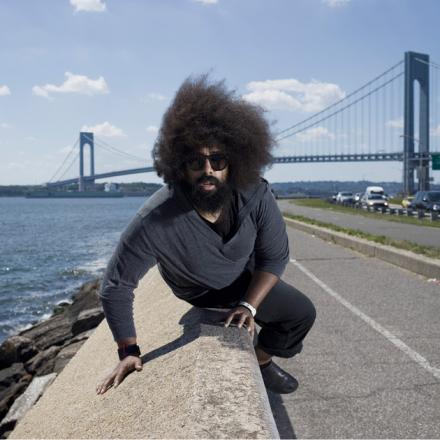 How do you write about someone who defies description? Is Reggie Watts a comedian? He certainly doesn't conform to any stand-up template I'm familiar with. Is he a singer? This gig, part of Yoko Ono's Meltdown Festival, was a terrific showcase for his voice. What does he want to be? After his 75 minute set I'm still not absolutely sure. What I am sure about though is that his show was an absolute blast. Funny, soulful and deafeningly loud. At one noisy point I was almost literally blown away.
Watts is probably best known over here as the giant-afro'd Brooklyn hipster who has worked with Flight of the Concords and Kristen Schaal, So it was an immediate jolt when he walked on and started to talk about growing up in Croydon with an utterly convincing London accent before playing "some of my favourite hymnals…" Never mind what country Watts is from though. what planet is he from?
This was one of the many instances of cognitive dissonance. It was simply hard to play the game of spot-the-influence that critics love so much. I'll have a bash though. He made me think specifically of Vic Reeves, Monty Python and Spike Milligan, but also Peter Cook, Steve Martin and flashes of stoner humour. At one point he suddenly pretended he had a false hand and seemed to spend an eternity in silence trying to fit the microphone into it. There was even, good lord, a spot of Norman Collier-style dodgy mic fun.
And, then, of course there was the music. Watts was one of the first performers I saw use the looping technique, sampling his voice and creating a beatbox symphony out of it. Since then countless comics have employed this device. Watts, who has a great vocal range, frequently evoking the spirit of Bobby McFerrin, doesn't necessarily do it better than others, but he certainly does it louder. At one point, as wave after wave of bass vibration hit the stalls I feared for my bowels.
Occasionally the rhythmic soundtrack was so cacophonous the lyrics were indistinct, but the gist was that Watts was deconstructing and debunking various musical genres. Like many big men he was light on his feet, strutting around to his Beastie Boys-style raps, smooching up to the mic-stand as a Prince soundalike or riffing about a member of the audience who nipped to the toilet – maybe he had bowel issues too – to show how easy it is to write a Sondheimesque musical.
It was particularly interesting to see this show the day after Bill Bailey's musical comedy masterclass. Both performers take established forms and twist them until the giggles come out, but while Bailey does this in an ingenious-but-traditional way – the Match of the Day Theme slowed down into a doleful Yiddish refrain, for instance – Watts flips the whole thing inside out.
Elsewhere there were Liverpool accents and Star Wars jokes which delighted the nerds. Watts is clearly a cartoon/sci fi geek himself and so was a lot of his audience. A routine about how Hugh Jackman bore scant resemblance to the comic book version of Wolverine prompted rapturous applause. Some lines were not even gags in the understandable sense, but in the context of this discombobulating performance still sounded funny. A deadpan routine about Happy Mondays suggested that he knows more about Factory Records than most Mancunians.
The gig ended with Watts hiding behind the speakers performing to about six people at the side of the balcony who could still see him. The rest of the Royal Festival Hall could certainly hear him though. In fact I should imagine they could hear him almost anywhere within the M25. 
Reggie Watts plays the Queen Elizabeth Hall on October 8 & 9.