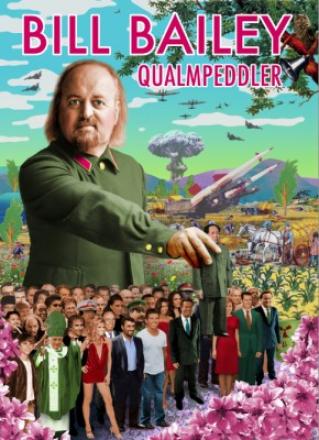 Update 1/7/13. Bill Bailey has just announced a further London date, at Wembley Arena on November 29. Tickets go on sale at 9am on July 5 here. Or via telephone on 0844 815 0815. Pre Sale from 9am on July 3. Full tour details here.
I always get nervous when I go to a show that is being filmed for a DVD release. What if the performer fluffs some lines? What if some twat in the audience decides to shout inane heckles and/or whistle? These things happened at Bill Bailey's show last night, but it didn't seem to matter. He soon shut up the phantom warbler with "Few shepherds in tonight…always welcome" and had a retort for every verbal heckle too. It didn't even matter that towards the end he banged his guitar and knocked it out of tune. Even his re-tuning got a rousing clapalong. This is how popular Bill Bailey is.
Qualmpeddler does exactly what the rather obscure title says on the tin plus so much more. It is the insanely talented musician and comedian peddling his qualms about the modern world, after starting off by explaining why he left Never Mind The Buzzcocks when he thought "I've got Grade 6 in clarinet. I'm better than this." Those qualms are pretty varied, ranging from his despair at celebrity culture, homing in on Big Brother's Chantelle, to his disdain for the current crop of politicians from various ends of the political spectrum.
So far so ordinary. It's what Bailey does with these subjects on his forest-festooned stage that brings the show into sparkling life. I was chastised recently for giving away too much of a show, but needless to say Bailey nails the Coalition with a heavyweight helping of comic cruelty. There is also a brutally casual put-down of Margaret Thatcher that is particularly vicious because it is so offhand.
Chantelle seems like an odd target, but Bailey builds a large section of the show around her and the fact that she once wondered why there was no word for the top of the foot. Bailey, clearly a lover of language, seems both attracted and repelled by her combination of stupidity and accidental linguistic insight. So much, in fact, that she makes a further appearance in the second half along with various other ingenious callbacks and recurring motifs.
As well as the absurdist gags there is the virtuoso music, with Bailey stepping behind his keyboards and picking up stringed instruments. Some of his TV theme tune variations had a whiff of "greatest hits" about them but that did not stop them from being breathtakingly funny, while his new dub Downton Abbey intro was three minutes of inspired musical magic (it was way better than some of the Clash's excursions into reggae). Even when he tripped over a line during one skit he improvised a stomping, stonking tune on a wind instrument out of it.
Where other shows can seem a little chucked together, this has so much going on in it you sometimes forget that there is only one performer onstage. Short filmed sketches, a regular part of Bailey's live repertoire, added to the sense of occasion. The visuals did not just appear randomly on the screen behind, they were often integral to the stand-up, adding supplementary punchlines. Elsewhere he sometimes used music as a subtle backdrop to a story, helping to vary the mood where required.
In recent years Bailey has become known for his interest in wildlife and the show built towards a clearly true story about saving a live owl from being served up in a restaurant he was eating in in China. It is a story that perfectly encapsulated the show. Compassionate and caring but also hysterically funny and faintly bizarre. Never mind the owl, this show was a hoot from start to finish. 
Bill Bailey is at Hammersmith Apollo again tonight then touring. Details here.