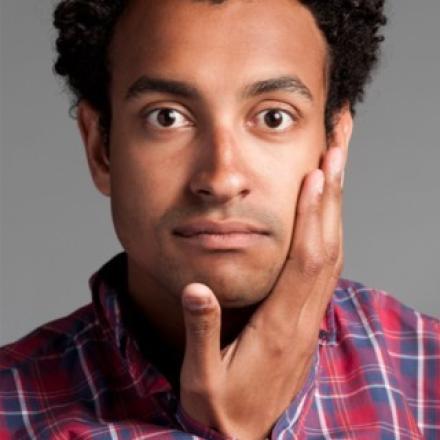 Matt Okine shared the Best Newcomer Award at this year's Melbourne Comedy Festival with Ronny Chieng and the two comedians' shows, which have both transferred from Edinburgh to the Soho Theatre and are there until Saturday, also share some similarities. Namely an interest racial roots. Where Chieng gets mileage out of his Malaysian family, Okine boasts Ghanian, Scottish and German blood.
This ancestral mix gives the relaxed-yet-chatty comic the opportunity to lob in a few Hitler Youth quips alongside the meat of Being Black & Chicken & S#%t, a vivid account of a visit to Ghana. In the same way that Chieng recalls being perceived as Malaysian in Australia and Australian in Malaysia, so this trip makes Okine acutely aware of cultural relativity. In Australia he feels poor, but in Ghana umpteen relations pop out of the woodwork to ask for handouts, thinking Okine is prosperous, which over there he is.
It is a simple story but well-told and fast-paced, with the lean comic extracting the maximum number of laughs from the fat-free tale. Later on Okine returns to the fiscal theme from a different angle. Back in Australia his friends, like him in their late twenties, are now earning big money while he still has his drama school debts to pay off. His anecdote about a meal out together – they order posh wine, he orders tap water, but the bill still ends up split evenly – is a universally recognisable story that one could imagine Michael McIntyre coming up with.
Okine is very good on an awareness of first world problems such as replacing faulty fridge lightbulbs being petty compared to African poverty, while noting that having money brings its own troubles. You cannot just have one fancy thing. A fancy toaster requires fancy expensive bread to go in it and you are soon on a path to ridiculous acquisitions. One riff about wealth mentions someone who owns a hovercraft. Full marks to Okine for originality here – I can't remember the last time I heard a joke involving a hovercraft.
As with Chieng there is nothing earth-shatteringly new here, but this show did feel fresh, which, given that I saw it nearly three weeks into its Edinburgh Fringe run in the exceedingly sweaty Underbelly, was pretty nice going. Okine had a very successful Edinburgh, picking up a Foster's Best Newcomer nomination to go with his Melbourne gong. There are only a few more chances to catch him at the Soho Theatre, but I expect he will be visiting the UK again. Though probably not by hovercraft.