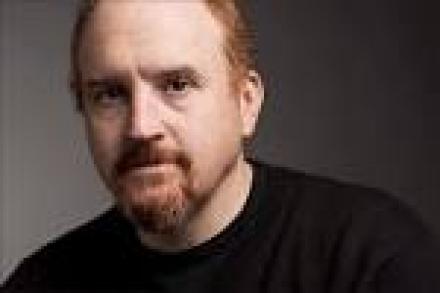 Well, he came, he saw, he played the wrong venue, didn't do much in the way of advance press, but he conquered. After all the fuss about Louis CK jumping from the Bloomsbury Theatre on his last UK visit to the Hammersmith Apollo and the O2 Arena, the reviews gave him a unanimous thumbs up. CK even seemed to win over the O2 audience by being bemused why he was playing such a cavernous venue himself: "Thank you very much for coming to this big, ridiculous place...no one should do comedy here.." Which does make you wonder how he was persuaded to play the O2. Did he ever ask what the capacity was? What kind of venue did he think he was playing? Didn't he ask his chum Ricky Gervais what it was like?
Luckily for me I was double booked on the O2 night so saw him in the relatively intimate Hammersmith Apollo the following night. A shorter version of this review of the show below originally appeared in the Evening Standard. I'm not sure what his UK publicists were paid to do as they did not facililate any press access. Poor me, I had to buy a ticket and sit with you lot in the circle. And I have to say that it was pretty good. CK effortlessly trotted out a tight set of bleak observations about life, relationships, kids and middle age and then finished by putting a clever, positive, satirical spin on it all suggesting that he is not just an angry face.
The show has definitely left its mark. A week on I've found myself quoting lines about humans escaping the food chain and I've been noticing that affluent people often wear brown shoes (CK says if you have brown shoes like his Manhattan neighbour you are obviously rich enough to afford to pairs of shoes – I'm sure CK can afford two pairs too, but somehow he manages to have his footwear cake and eat it). He even did close to 90 minutes, which is actually quite a long set for an American stand-up. Value for £42.25? Sure. I happily pay, ooh, £45 for the privilege of an audience with this stand-up master. If he played a smaller venue.