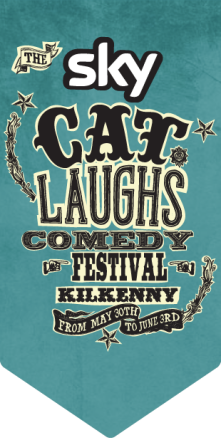 One of the funny things about this year's festival was that one of the highlights was not a stand-up gig at all in the conventional sense. The Mitch Hedberg Tribute Show paid homage to the cult comedian who died, aged 37, in 2005. I don't think Hedberg ever played London or Edinburgh but I was lucky enough to see him in Kilkenny in 1999. In was in Kytelers Bar I think, just after Phill Jupitus had done a routine about spiders.
What I remember most were Hedberg's wire-framed glasses – with their blue tint and his shaggy fringe he resembled a younger, healthier Ozzy Osbourne. Although maybe he wasn't that much healthier. Onstage at the tribute show his widow Lynn Shawcroft (who was, ironically, getting a pint when the gig started) recalled how they tried absinthe in Kilkenny and how Mitch tried to come off drugs by concentrating on being an alcoholic instead.
Hedberg's humour was revisited by a group of comedians including Barry Murphy, Will Durst and Aisling Bea reading out some of his classic gags. Even without the stoner delivery they easily stood the test of time. I particularly liked "My friend asked me if I wanted a frozen banana. I said 'No, but I want a regular banana later, so ... yeah'. And the one about a sleeping bag being a tortilla for a human. And his reflections on tennis: "No matter how hard I practice I know I'll never be as good as the wall".
Elsewhere at the Festival stand-up comedy had to make way for sit-down gossip. Two of my most enjoyable gigs were Dom Irrera's Fireside Chats in the cosy (i.e. miniscule) Hole in the Wall bar. This was basically a way for the public to hear what comedians shoot the breeze about offstage and it was great fun. Irrera recalled opening for rock acts such as Cher. When he supported Joan Jett he was boo'd off after three minutes. Backstage the tour manager said that was longer than most comedians lasted. Colin Murphy recalled some of the things that had been thrown at him at gigs, including vegetables and a double-headed dildo that left a black smear on his face.
Among those also taking part in the chin wags were American satirist Will Durst and genial Irishman Karl Spain. There was some unprintable gossip about cover-ups of Hollywood stars' sexual indiscretions and some scandalous naming and shaming of comedians who steal gags. Irrera recalled doing a gig in Kilkenny on a moving bus which I went to – when he was upstairs the audience downstairs couldn't hear him and vice versa, so you either got the set-up or the punchline but never both.
Click on "Next" below to go to the sensational second page of Part 2.