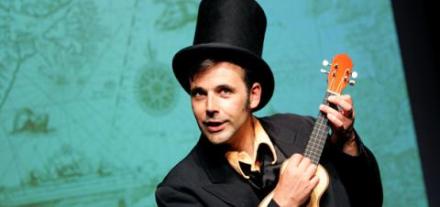 What's in a name? When Debbie Harry decided she wanted to be taken seriously as a musician she started calling herself Deborah Harry. When Rob Newman decided he wanted to be seen as a more mature comedian he started being billed as Robert Newman. But it is probably Newman's material more than his monicker that has cast him in a new light. Instead of "that's you that is" catchphrases and low-level impressions his shows over the last decade have, among other things, dissected the history of the oil industry over the last century and the real reasons that wars are fought. Newman is certainly not afraid to tackle big themes. His latest show, Robert Newman's New Theory Of Evolution, is at the Soho Theatre from January 6 - 18. You can read a full review of its last run here. Charles Darwin eat your heart out. 
This is a good week for comedy shows which make you think as well as laugh. Also at the Soho Theatre is Alfie Brown, who is definitely a name to watch. This provocative young performer first popped up on the Beyond The Joke radar when we launched a year ago and he happened to have an interesting gig at the 99 Club which we wrote about here. Since then we've seen him a few times and he has been getting better and better, while still retaining those flinty sparks of intelligence and individuality which make him so captivating.
Brown's latest show, The Revolting Youth, finds him thinking harder than ever about the meaning of modern life. Should we be pursuing money or fame or is it all a worthless, hollow sham? There's a bit of Russell Brand here, along with flickers of Stewart Lee and even occasionally Jack Whitehall – though that could be the beard – but Brown is certainly getting close to finding his own distinctive voice. Catch him now and when he is rich and famous you can show off to your chums that you saw him first. 
Oh, and finally, Josie Long is doing some low-key new material try-outs at the Invisible Dot from Monday to Wednesday. Long is another fiercely political performer who is never less than stimulating. We have no idea what she will be talking about, but you can bet your last quid it will be interesting.