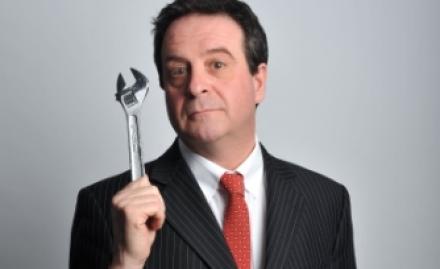 Some exciting big gigs this week. Tonight at the Palace Theatre the Last Leg trio of Adam Hills, Josh Widdicombe and Alex Brooker appear in aid of the Centrepoint homelessness charity. More details here. 
Also tonight Tim Key starts the eagerly anticipated run of his first new show for two years, Single White Slut. Following the success if his last show Masterslut Key's fans will be eager to see what he is up to now. He is also much better known than he was two years ago and has a lot more fans, having played Sidekick Simon in the Alan Partridge movie following his debut in the Foster's Funny internet version of the Partridge saga. More recently he appeared in the first Inside No. 9 episode, Sardines.
The bad news is that the Soho Theatre dates have been sold out for a while. The good news is that there may be some returns, but if not there is also a run at the Arcola Tent in March and further West End dates are to be announced. 
Also this week Mark Thomas brings his 100 Acts of Minor Dissent to the Leicester Square Theatre for two weeks from tomorrow. Thomas has been a spanner in the works of the establishment for over 25 years now and after his more personal show Bravo Figaro! he returns to his subversive side here, as he documents some of the recent protests he has undertaken.
Over the last year Thomas has been playing little disruptive pranks, from doctoring estate agents' boards to putting stickers on walls where they shouldn't be. He hasn't quite finished his century of challenges yet but says that if he doesn't do it by the deadline he will donate £1000 to UKIP. If that doesn't motivate him nothing will.