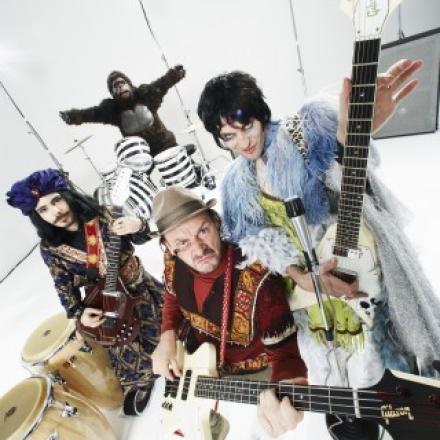 Don't hibernate, get out next month and see some live comedy in London. Here is your handy cut-and-paste guide to the essential shows next month. Starting out with one essential show later this month...
Sept 29 & 30 - Mighty Boosh Band – Soho Theatre, W1. Julian Barratt and Noel Fielding reunite to warm up for Santa Monica's Festival Supreme with a low-key gig - can't afford the air fare? Get onto the soho Theatre box office pronto.
Oct 2: Mencap Benefit - Hammersmith Apollo, W6.  Jo Brand, Jon Richardson, Omid Djalili, Jessica Hynes and more contribute to this month's tastiest all-star charity gig in aid of a very good cause. Also featuring Russell Howard, Ronni Ancona, Francine Lewis, Lucy Punch, Richard Herring, Jessica Hynes, Andrew Maxwell, Tim Downie and Cardinal Burns. 
Oct 5: John Lloyd – Bloomsbury Theatre, WC1. A London date for this master raconteur who had a hand in Blackadder, Spitting Image and QI to name but three classic TV shows.
Oct 7-12: Max & Ivan – Soho Theatre, W1. Foster's Award nominees transfer to soho. Until Oct 12.
Oct 8 & 9: Reggie Watts - QEH, SE1. Cult New York singer/comedian returns to south bank after acclaimed visit in Spring.
Oct 8-13: Richard Herring - Leicester Square Theatre, WC2. Passionate podcaster and lover of the internet brings his new show, We're All Going To Die, to London for six nights. 
Oct 9-13: Susie Essman - Soho Theatre, W1. Famously foulmouthed co-star of Curb Your Enthusiasm comes to town.
Oct 14: Russell Brand - Hammersmith Apollo, W6. He's not the Messiah, he's a very funny comedian and this is the first official London date on his Messiah Complex tour.
Oct 17-Nov 23: Pajama Men - Arts Theatre, WC2. Virtuoso US physical comedians bring latest set to the capital.
Oct 16-19, 24-26: Micky Flanagan - O2 Arena, SE10. Shove off Beyonce, the cockney superstar plays first of six arena nights.
Oct 30: Jason Manford - Hammersmith Apollo, W6. Much-loved observational stand-up brings "First World Problems" tour to London.