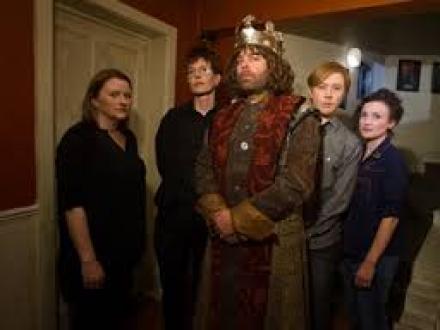 A striking return to form for Inside No 9 this week with The Understudy, which is not set in a house for once, but in dressing room number 9. Steve Pemberton very much takes centre stage at the start as Tony Warner, a grand, egocentric Shakespearean actor trying to stay off the wagon while starring in Macbeth. Reece Shearsmith is his understudy, biding his time quietly for his big break.
It is pretty hard to fault the cast, though there is so much going on here – the narrative is wittily divided up into five brief theatrical acts – that the supporting cast, including  Julia Davis as surly company manager Felicity and regular comedy face Rosie Cavaliero as dresser Kirstie do not get quite as much screen time as they deserve. And poor old Roger Sloman of Nuts In May fame barely has a walk-on role to get his comedic teeth into. I did occasionally think that Pemberton had a touch of Matt Berry's Steven Toast about him, but that's just because Pemberton is playing an archetypal luvvie, as was Berry.
But these are not complaints. This is very much Pemberton and Shearsmith's instalment and they are both brilliant, with one playing an actor on their way up, the other one on their way down. I thought they might be slightly influenced by the movie Theatre of Blood, in which an embittered thespian played by Vincent Price kills off critics who have given him bad reviews in various gory Bard-inspired ways, but this is very different. As ever, it would spoil the fun to say too much. Needless to say much is made of Shakespearean lines that take on a greater resonance than intended and there are some very creepy moments. You don't need to be a literary scholar to get the gags though. This is horror which cleverly twists the knife and then just as you can't take any more twists it again.
Here's a trailer...
Inside No. 9: Wednesdays, BBC2.