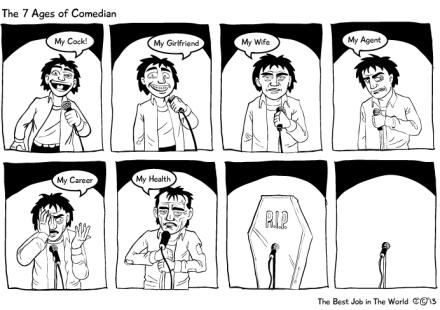 The Monty Python reunion has been making me think a bit about old comedians lately and then this morning, around the same time that Cleese & co were making their big announcement that they are going to play the O2 Arena on July 1, I spotted this illustration opposite on Facebook, by comedian John Cooper, which has made my day all the more enjoyable.
It just goes to show that sometimes brevity really is the finest form of wit. In a few frames with minimal words Cooper has captured the tragic essence of a lot of modern comedians. They start off bemoaning their lack of sex and end up moaning about their prostate tests. 
I guess you can't knock comedians for being like this. After all, a basic bit of advice is "talk about what you know". I guess you could expand this a little to include "parenthood". I remember a turning point in Jack Dee's act was when he started talking about his toddlers and how they had a habit of sliding their sandwiches into the slot in his VHS player (ask your dad what a VHS player is). But there is a purity to Cooper's version – and of course the Seven Ages idea is a nod to Shakespeare. I don't recall the bard writing the Eight Ages of Man.
This thing about ageing comedians has also been in the air lately as a lot of comedians who I grew up with have suddenly started playing parents in TV shows. I think it began with Skins and the likes of Harry Enfield and Bill Bailey doing the dad thing and then more recently we've had Rik Mayall in Man Down and Bob Mortimer in Drifters.
I guess there comes a point in a comedians' life that they have to accept that while they might still get big roles and still be able to fill theatres, on television there is a tendency to give the sexy parts to the hot young talent. Hence the ubiquity of Jack Whitehall, who, of course, has roped in his old dad for his new series.
Cooper's brilliant cartoon is a beautiful distillation of another showbiz producer mantra, which I first heard in pop music terms but could equally apply to comedy. Who are the Spice Girls? Get me the Spice Girls. Get me a cheaper version of the Spice Girls, Get Me a younger version of the Spice Girls, Who are the Spice Girls?
The Monty Python reboot might slightly debunk this saying, but let's face it,  John Cooper's last two frames, RIP and then nothing, are always going to be true.
See more of John Cooper's work here.