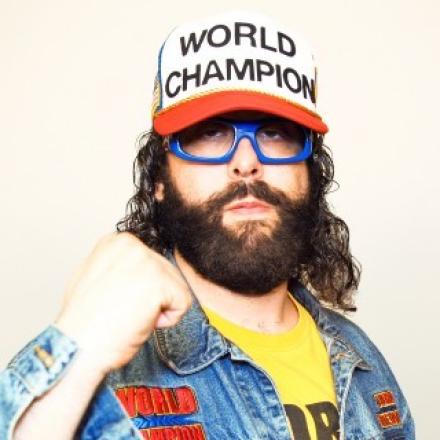 There are no bad comedy gigs, just bad comedy audiences. I'm not sure if that's what Judah Friedlander said after his opening night at the Soho Theatre on Tuesday, but maybe the thought did occur to him after he did an hour of his finest "World Champion" boasts and one-liners but struggled to get the crowd to chip in. There were certainly laughs, but there were also moments when you could almost see the tumbleweed blowing across the room as Friedlander asked "Any more questions?" for the umpteenth time. His bragging statements were brilliant – "any of you sing in the shower? Not me. I play the drums" – but the feedback to his questions was positively minimalist.
This was a particularly odd gig for me because I'd seen Friedlander grab a room by the scruff of the neck at the Cat Laughs Festival two days earlier and have a storming gig. But maybe there were portents. Another critic in Kilkenny had seen Friedlander do a set earlier in the day and had had misgivings about him. But with inspired lines like "I weightlift weightlifters while they're lifting weights" how could he fail? Well, here's my review here – it's one of the generous ones.
I should add that this was by no means as bad as Sarah Silverman's legendary car crash of a gig at the Hammersmith Apollo in 2007, but the awkwardness of the Soho audience was palpable from the back row where I was sitting. Sometimes I think the laughs were louder than they might have been just because we were relieved that someone had finally piped up and given Friedlander something to work with. I wonder what was going through his mind. I kept thinking maybe he had a big finish but the Q&A format pretty much lasted the full length of the show.
In London the consensus seemed to be that the 30 Rock star failed to read the room. He is clearly an experienced comedian who plays clubs as well as arts centres – and, by all accounts, a lovely bloke – so when he could see things weren't working he should have had the tools in the bag to turn things round. Maybe he should have stopped asking questions that were barely going to get a response and just gone into self-contained routines. Or maybe he just shouldn't play fringe theatres in London on a Tuesday night to an audience that was so cool they probably wouldn't speak to their mums in private, never mind a strange, bearded comedian in public.
Judah Friedlander is at the Soho Theatre tonight, then The Stand in Edinburgh. Details here.