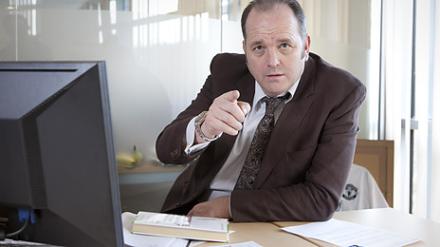 Do you want conclusive proof that a journalist will do anything to avoid proper work? I even sat down this morning and watched the brief clip of Geri Halliwell in the new sitcom she is working on, entitled Life Sucks, in which, according to a spokesman quoted in The Sun, "She laughs gamely at herself and her fame.' Well, judging by the wincemakingly unfunny snatch in which Halliwell is having a post-coital chat with a man who confesses that he has taken a vow to bed all of the Spice Girls, she will be the only one laughing.
There is nothing particularly wrong with Halliwell's naturalistic performance. What really grates is this tendency for non-comedians to think that they can entertain the public by starring in a comedy where they reveal a cartoonish version of themselves. Halliwell's clips follows hot on the heels of a clip surfacing from a 2008 Kanye West pilot in which the rapper has a comedy-of-awkward meet-and-greet with a sick child. He is too busy on his phone to pay attention and the boy prefers L'il Wayne anyway.
I'm not sure where to put the blame for this phenomenon. I guess Ricky Gervais's Extras made it fashionable for superstars from Patrick Stewart to Kate Winslet to play caricatures of themselves, subvert their public persona and in the process prove that not only were they brilliant thespians but that they also had a brilliant sense of humour and did not object one bit to being the butt of the joke. It was a good gag in Extras but it feels as if it has run its course now.
Larry David's Curb Your Enthusiasm, which also blurred the boundaries between fact and fiction, also surely had a hand in spawning this vogue. Curb, unlike Extras, is not tightly scripted, it is largely improvised with the cast having a rough template but then working out their own way of getting from plot point A to plot point B in the most excruciatingly funny way possible. Yet it works brilliantly. Celebs from Ben Stiller to Ted Danson have played the game and shone as versions of themselves.
Extras and Curb might have had different approaches but they both delivered the comedy goods. Probably because top rate comedy talent was in the driving seat. Geri Halliwell is known for a lot of things but comedy is not something that springs immediately to mind. But then she is not the first person from a different area to try and move into the comedy world. Trinny & Susannah also had a crack at this with their own fly-on-the-wall series a few years ago, but no amount of self-mockery could make up for the fact that the makeover duo were not natural comedians.
It just feels today that comedy has become something of a default setting for performers thinking about branching out. Another antecedent is The Osbournes. Ever since the cameras invaded their mansion and revitalised Ozzy Osbourne's career and made new stars out of other members of his family, documentaries, from Keeping Up With The Kardashians onwards, have aimed for the funny bone.
And even when programmes do not feature stars they play it shamelessly for laughs in a way they have never done before. Look at BBC3's The Call Centre, which desperately tried to make a real-life David Brent out of Napoleon-loving boss Nev. Or The Apprentice, which these days seems to be edited and cut together for maximum giggle potential, from Lord Sugar's one-liners to Nick Hewer's irritated glances. I'm sure that was not the case when the series first started on BBC2 in 2005.
Comedy just seems to be everywhere and everyone seems to think they can do it. But they can't. One can dress up a mockumentary in all sorts of fancy terms such as "postmodern" and "meta" but what really makes a funny show is a funny performance and a funny script, either improvised or written in advance. That is why Alan Partridge and This Is Spinal Tap were hits and why Count Arthur Strong is now building up a following. You wouldn't call a plumber in to fix your computer, why watch a pop star when you want to laugh?