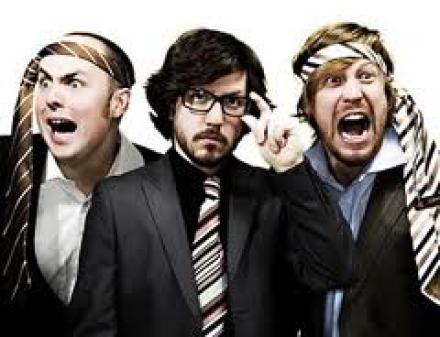 I was interested to read recently in David Hepworth's excellent blog that Tie Rack had recently gone into administration. Veteran music journalist Hepworth eloquently noted that these days you are more likely to see a rock star wearing a tie than a CEO. 
Hepworth had just seen Bob Dylan sporting a tie at his gig at the Royal Albert Hall. If the writer really wants to see entertainers wearing ties, however, he should go to comedy gigs or The British Comedy Awards this Thursday. These days it seems as if the cream of stand-up is dressing for a day behind the counter in a city bank. Albeit in an expensive, made-to-measure suit. You can see plenty of them sporting their ties on the covers of their new Christmas DVDs, as if to say "look at me in my tie, aren't I smart? Well, you know what, my jokes are just as smart. Please buy me"
Lots of comedians seem to be getting tied up at the moment and I don't mean in a Fifty Shades of Grey way. John Bishop wears a tie. Jack Whitehall wears a tie. Frankie Boyle might come out with controversial jokes but there is nothing controversial about his tie. I think I've even seen Seann Walsh wear a tie. When I interviewed Walsh earlier this year I noted that it looked as if he was tidying up his appearance. He explained why: "When I started out I had one shirt and one pair of jeans with holes in them, not as a fashion statement but because I didn't have any other jeans. My favourite comedians were Lee Evans and Jack Dee and it was an aspiration to do a big show and wear a nice suit. If you wear a nice suit then the audience is less likely to judge you before you speak. They wait for you to get to the mic, whereas with some comedians the audience has already decided 'he's a cock' because he wears x. A suit is less to be judged by."
I'm not absolutely sure if I agree with him. Personally - maybe it's just me - I make judgements about comedians who wear suits just as much as I make judgements about scruffy comedians. I expect stand-ups in suits and ties to be very professional and deliver the goods. Businesslike even. You can't be more businesslike than Jimmy Carr who sometimes looks like he is about to chair a boardroom meeting. C4's 10 O'Clock Show might be a bastion of irreverence but Carr and David Mitchell still wear ties (Charlie Brooker appears to have remained a neck-gear refusenik). Comedians seem to wear ties when they want to be taken seriously if you get my drift.
I guess I find it mildly irritating because I like my comedians to be outsiders and rebels looking in and bucking the system, not looking as if they have stopped off at the theatre on their way to a civil service job interview. I don't think I've ever seen Daniel Kitson in a tie unless it was a militant anti-fashion statement rather than a job interview tie. I've seen Stewart Lee in one, but it was probably a meta-tie. And Russell Brand might have worn one occasionally but only as a suggestive surrogate penis.
There is nothing inherently wrong with ties. My only fear is that it could be a slippery slope. After all, a tie is only three letters away from a bow-tie. Stick one of those on and you'll soon be adding a frilly shirt and evoking the spirit of Bernard Manning and politically incorrect 1970s stand-up show The Comedians.
*Update. After this article appeared dapper comedian Simon Evans contacted me mildly miffed that he had not been included. He is indeed a natty tie-wearer and proud of it. I look forward to seeing him in a lovely pink frilly shirt soon as well.