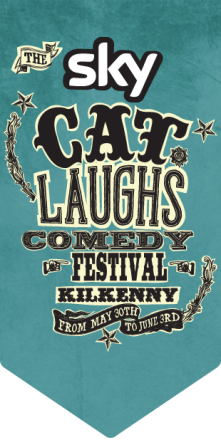 I'm currently at the Cat Laughs Comedy Festival in Kilkenny, which is now in its 19th year. This year's new sponsor is Sky, but apart from the ubiquitous Sky banners and numerous broadband/TV adverts dotted around the small city not a lot has changed since I first came here over ten years ago.
It's a bank holiday weekend in Ireland and while Kilkenny is bustling and had its fair share of lively stag/hen dos on Saturday night there is still a villagey feel to the place, with countless gigs squeezing into pubs and tiny back rooms as well as the larger Watergate Theatre. Yesterday I went to a venue I'd not been to before, The Hole in the Wall, and initially walked straight past it because it is so small. It is eccentric little dives like this that make The Cat Laughs is wonderfully, wildly unique.
There are plenty of big names here – Dylan Moran, Kevin Bridges, David O'Doherty, Seann Walsh – but in comedy industry terms there is a big difference between Kilkenny and the Edinburgh Fringe Festival. This was summed up for me on the day I arrived. Early last week – while it was still May and as cold as February –  I received an email from a PR handling for some Edinburgh shows asking me if I had worked out my reviews schedule yet as they wanted to get their shows reviewed as quickly as possible. Edinburgh starts in August. Then on Friday about an hour after I had checked into my Kilkenny hotel I received a phone call from the Cat Laughs organisers. "Would you mind not writing any reviews until after the festival has finished?"
The contrast was encapsulated here in a nutshell. Edinburgh is all about pressure, coverage and star ratings. The pressure to have a show ready, the pressure to get noticed and get a big break, the pressure to sell tickets, the pressure to get reviewed. Comedians come to Kilkenny to get away from pressure. There are not many solo shows here, this is a chance for theatre headliners to get back to their clubby roots, do 20 minute sets and hang out at the bar with their friends. They are doing great material and great shows of course, but they are not so bothered about getting great notices from the press.
There is no sense of comedians being in competition in Kilkenny. This is showbusines with the business taken out. One thing that always worries me when a festival has a new sponsor is that there might be pressure from the sponsor to launch a prize for the best performer, having seen how well the profile of Perrier and now Foster's has done out of the Edinburgh Comedy Awards. So far Kilkenny has resisted this and I think that's one of the reasons why it is so laid-back. Everyone wants to do the best show they can but nobody has to worry about being judged.
It means that comedians can relax, though some work harder than others. There is a private game I always play with myself when I come to Kilkenny called the "Avoid Dom Irrera Game". The Philly comic with Italian roots is a terrific comedian and storyteller who has become a bit of an institution at the Cat Laughs, but because comedians do lots of gigs over the weekend in different venues and on different bills you can sometimes end up repeatedly bumping into the same comedian if you don't plan your schedule with military precision. Actually I'm thinking of renaming it the "Avoid David O'Doherty Game" as he seems to be the hardest working comedian in Marble City this year.
Anyway, I finally found the Hole in the Wall venue yesterday afternoon and Irrera was there hosting the inaugural Uncle Dom's Fireside Chat, in which he shot the breeze with Judah Friedlander from 30 Rock and Cat Laughs regular Karl Spain. An anecdote came up which highlighted how Kilkenny is the Comedy Festival where egos take a break. Anywhere else comedians might want to headline a gig just to show how big they are. Irrera, however, told an old story about Canadian Mike Wilmot, who was supposed to be closing a gig but asked if he could go on early. "Why?" asked a fellow stand-up. "Because I've got a party to go to," explained Wilmot. There was a brief pause and then the other comedian replied. "We've all got parties to go to."
Anywhere else the gig would be the most important part of the night. It is one of the joys of Kilkenny, the festival where status takes a holiday, that the parties are just as important.