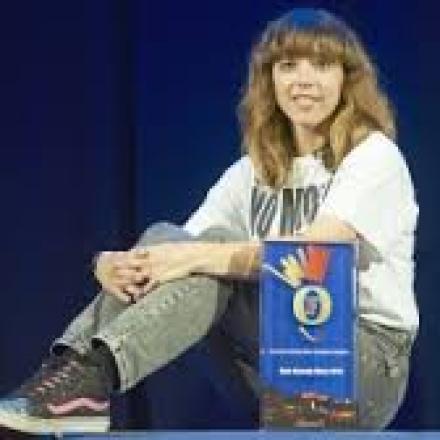 I've just been listening to yet another "making feminism funny" interview with Bridget Christie, this time on Radio 4's Women's Hour. Christie seems to have been everywhere since she won the Foster's Edinburgh Comedy Award on Saturday. One place I haven't seen her richly-deserved success get much coverage, however, is in the Daily Mail, which in the past has indulged in a spot of Stewart Lee-bashing. In fact I've just searched online and I can't see anything there on Christie, apart from a tiny diary story, since her victory. 
Then again, maybe it is not so much of a surprise. In 2009 Christie did a show in Edinburgh entitled My Daily Mail Hell, in which she talked about her time working on gossip stories for the newspaper. In the show she recalled an incident when she saw the BBC's Alan Yentob knock over a plastic chair at a West London gathering. It seemed like a trivial incident but Christie was astonished to see how the Mail's crack team of top-notch hacks turned this trivial event into a story worth publishing. But maybe Christie learnt something from it. She uses a similar technique in her shows, taking minor details and sculpting epic routines – a narrative centrepiece of her 2012 show, War Donkey, for instance, was a man farting in a bookshop. Just imagine what Christie could have made of it if it had been Alan Yentob passing wind. 
Edinburgh 2013 has not just been the year of women in comedy but also the year of journalists in comedy.  This year's Fringe seemed to have more ex-newspaper employees doing shows than ever before. Tommy Holgate, who created The Sun's comedy website, has returned to his love of stand-up. Josh Widdicombe used to work on the sports desk at the Guardian. Political pundit Steve Richards took his sequel to last year's debut, Rock & Roll Politics, to the Fringe this year, while journalist Viv Groskop, who wrote a great book about her intensive 100 stand-up gigs, pitched up for some shows.
The crossover between journalism and stand-up has probably never been greater. There is also, of course, Richard Peppiatt, the ex-Star reporter who has made a post-Leveson splash with his dirt-dishing One Rogue Reporter show. So Christie is definitely not alone in having escaped her newspaper fate. It is ironic though that the paper that she once worked for seems to have missed out on this  week's biggest stand-up story.