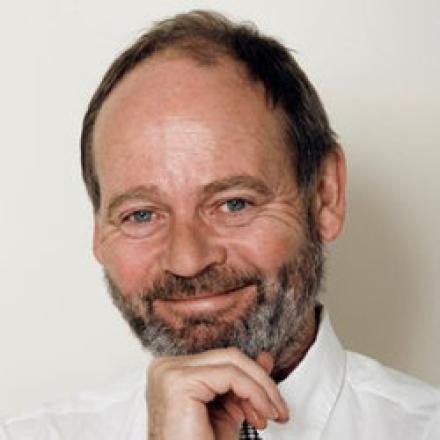 I attended the annual breakfast briefing for the Foster's Edinburgh Comedy Awards yesterday. The good news – apart from the fact that the croissants were excellent – was that Foster's has confirmed that they are sponsoring the award for the next three years, which was maybe not a surprise as the award has been a great way of linking lager with laughs and I'm sure it has helped their sales figures. It can only be a matter of time before critics stop calling it the award formerly known as the Perrier Award.
During the informal post-bacon sandwich chat the subject came up of John Lloyd. The veteran TV producer who has had a big hand in the likes of Not The Nine O'Clock News, Blackadder, Spitting Image and QI is doing a live show in Edinburgh this year. It is his Edinburgh debut, so should he be eligible for a Best Newcomer Award? A firm decision did not have to be made at this stage. Maybe his show will be so wince-makingly awful when the judges see it that eligibility won't be an issue anyway.
However, I doubt if Lloyd's show will be awful. He is a fabulous storyteller with a veritable treasure chest of anecdotes, opinions and gossip at his disposal. If I was ever asked for my dream dinner party guests John Lloyd would figure way above the likes of Marilyn Monroe, Freud and Leonardo Da Vinci (I can't understand Italian anyway…). But even if Lloyd delivers plenty of laughs is it really a stand-up comedy show? Or even primarily a comedy show?
This train of thought occurred to me on Tuesday night as well when I saw newspaper columnist Steve Richards bring his 2012 Edinburgh show, Rock n Roll Politics, to the Soho Theatre. Richards' show was an entertaining, engaging critique at the current political landscape, but I don't really think it counts as stand-up. The cynic in me felt that it was a way for Richards to hone his after dinner speaking skills and land more corporate bookings rather than hone his one-liners and land more gigs at the Comedy Store.
The phenomenon of non-comedians doing comedy shows that aren't exactly Michael McIntyre seems to be getting increasingly popular. Suggs has just announced a national tour, following the success of some previous shows without his usual band, mixing amusing stories with music. It feels as if maybe he would like to be full-on stand-up – there always was a lot of music hall in Madness – but he can't quite commit. In the old days celebrities, pundits and politicians such as Alistair Campbell and Tony Benn would be more likely to do "An Audience With…" but now the format seems to have moved more clearly into the orbit of the comedy circuit. And in theory they should be eligible for the Foster's prize – it is, as far as I know, a comedy award, not a stand-up comedy award.
TV regular Gyles Brandreth does live gigs all the time (I doubt if comedy is his main way of earning a living these days though, but at least he does have previous, he supported Bernard Manning at the Piper Club in Preston in 1976. Manning said "you're a fucking cunt Gyles, but I like you."). Ex-Daily Star journalist Richard Peppiatt has been taking his tale of tabloid hackery, Rogue Reporter, around the comedy clubs and has built up quite a following. Terry Christian has done an entertaining autobiographical live show, fellow DJ Christian O'Connell is doing a show on the Fringe this year and BBC6 DJ Shaun Keaveny has been dipping his toes into stand-up waters.
Edinburgh is often the focus for these exploits. Janet Street-Porter did an Edinburgh show a few years ago which felt like a spin-off of her recent autobiography. She had the stories, she seems to have no difficulties with public speaking, so why not put the two together and charge people money to see her. I also recall seeing a show at The Pleasance Cabaret Bar (one of my favourite venues in Edinburgh) fronted by Simon Woodroffe, the founder of Yo Sushi. Plenty of fun, but again this felt more like a very entertaining motivational business lecture than a stand-up show.
In the midst of all this, I never thought I'd say it, but you have to give credit to Lembit Opik. At least when he lost his seat in the General Election and said he was going to do stand-up comedy he really did have a go in a proper club. Though maybe he realised that there was more to stand-up than he first imagined as he does not seem to have pursued a comedy career with the rigorous dedication it demands.
The funny thing is that at the Foster's briefing we also discussed the recently introduced Cabaret section (comedic cabaret shows are eligible). It struck me that maybe the Fringe brochure should introduce another new section. The Comedy Section for People Who Are Not Comedians And Earn Their Main Living Doing Something Apart From Live Comedy. And if you go in this section you aren't eligible for a Foster's Award. Yes, I know it would be a quite small section, maybe even smaller than its heading, but it would certainly make life simpler for the judging panel.