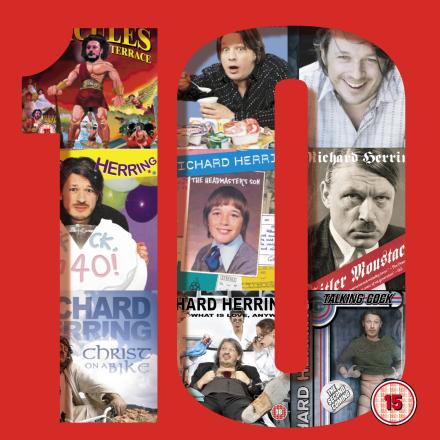 Update 17/6 – Following Richard Herring's innovative, generous Edinburgh Fringe offer below, serial maverick Lewis Schaffer has decided to get in on the act and has just made the following announcement:
"Inspired by alternative comic Richard Herring, who is to forego poster advertising of his Edinburgh Fringe show and is using the money he saves to give every audience member a free copy of his DVD 10, Lewis Schaffer is to do the same and will be spending his entire promotional budget for Lewis Schaffer is Better Than You at Heroes of the Hive during the Edinburgh Festival on giving every paying audience member a free copy of Richard Herring's DVD 10.*
"I thought," thought Lewis Schaffer, "this year, why not spend my entire £75 promotional budget on something that people might actually want? People love Richard Herring. I would give them a DVD of my shows but my shows are unfilmable and people don't like me."
*As long as Lewis Schaffer can strike a deal with Richard Herring to get them cheap. If not, Lewis Schaffer will give a similar DVD with a value of at least £1 to all paying customers.
If it's free there must be a catch. Not when it comes to Richard Herring. The podcast-crazed comic is marking his 10th different solo stand-up show in ten consecutive Edinburgh Fringes by giving away a free two-and-a-quarter hour DVD of the greatest routines from his previous nine shows plus background commentary to anyone who buys a ticket for his new show, We're All Going To Die! at the Pleasance Beyond. OK, so not totally gratis, but a pretty good worth-it deal. Fan can enjoy fragrant snippets including "Someone Likes Yoghurt", "Valentine's Day Ferrero Rocher", "Why Liberals Are More Racist Than Racists" and "The Deconstruction of the Genealogy of Christ". Plus you can watch Herring as he ages from svelte, boyish thirtysomething to decaying, greying fortysomething – rather appopriate given the title of his latest show.
Herring is funding the DVD by spending the £3000 that would normally be spent on Edinburgh Festival lamp post advertising. "Posters like these are so ubiquitous that I don't think they have any impact anymore," he says. "And they're all covered in four and five star reviews, which are usually from some obscure website or paper which isn't fooling anyone. If we all stopped doing it then we'd save a lot of money. I thought, this year why not spend this £3000 on something that people might actually want and give a gift to the people who actually want to see me rather than create an eye-sore annoyance to people who don't? I think we're throwing our money away and if other acts have three grand to spare for PR, then there must surely be more imaginative ways to spend it. Or they could just keep the £3000."
So yes, there is a catch. You have to see "We're All Going To Die!" in Edinburgh. Well, I suppose you don't actually have to see it. You could just buy a ticket to snaffle the DVD. Details here.