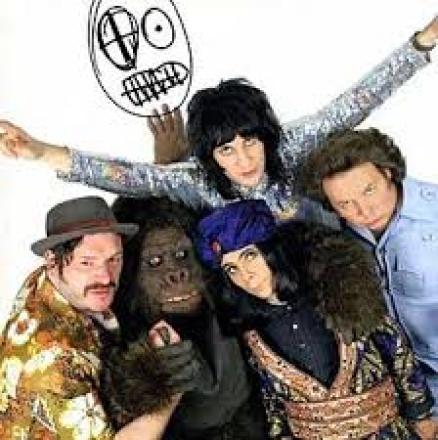 2014 is definitely shaping up to be the year of the comedy comeback. The Monty Python O2 Arena gigs might be the biggest story, but Cleese and Co may not turn out to be the only veterans who get back on the comedy horse in the next twelve months. There have already been rumours of The Fast Show ensemble getting back together. The sketch team reunited for Radio 4's The Reunion on Christmas Day and Charlie Higson has hinted that a stage get together could be next, alongside some TV work to mark BBC2's fiftieth birthday later this year.
And then there is the League of Gentlemen, who received a rapturous response when they dusted off their tuxedos and some old sketches and topped the bill at the one-off Royal Free Rocks With Laughter gig at the Adelphi in early December. Jeremy Dyson, Reece Shearsmith, Steve Pemberton and Mark Gatiss are all still good chums, the only thing stopping them from getting together for something more substantial seems to be their separate projects. Gatiss is busy with Sherlock and a straight acting career, while Pemberton and Shearsmith are about to return to BBC2 with their new series Inside Number 9 next month. But be patient, I suspect we may not have heard the last from Royston Vasey.
Finally it also seems as if the Mighty Boosh could be doing the resurrection shuffle. Noel Fielding and Julian Barratt did some warm-up gigs at the Soho Theatre last autumn as the muscial Boosh band, before appearing at the Festival Supreme in America and reports suggests that they have now got the taste for some live gigs again and are also talking about finally making their much-talked-about movie. According to the Mail on Sunday they are going to tour in the New Year, though there has been no official announcement just yet*. But with Vic & Bob back on the BBC and the likelihood of further David Brent gigs, the comedy circuit should maybe be sponsored by Saga.  
*After this story caused considerable excitement on social media and was reported on Chortle, Noel Fielding tweeted "I'd rather have my balls dipped in acid than speak to the Mail". The following quote was attributed to Julian Barratt in the Mail's Diary article: "We're going on tour early in the New Year and we'll be working on material that hopefully could make a movie." The Velvet Onion website, however, appears to be pretty sure that nothing live is confirmed yet, according to this update.