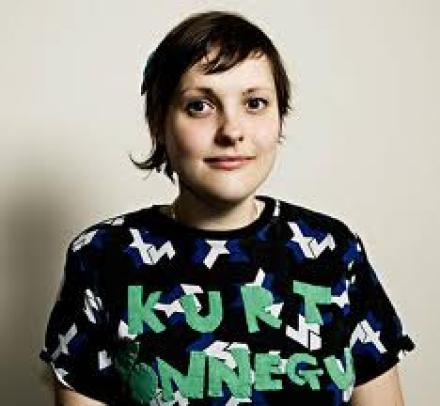 Josie Long (pictures by Idil Sukan at Draw HQ) was one of my favourite comedians even before she co-founded Arts Emergency to help students study arts degrees. I don't always agree with her but I admire the way that she throws herself headlong into everything she does, whether it is her pursuit of social justice or her hobby of outdoor swimming. I interviewed Josie  for The Evening Standard to help to promote her big Arts Emergency gig at the Hackney Empire this Thursday. Long will compere and the line-up includes Stephen K Amos, Tim Key, Mark Watson, Robin Ince, Isy Suttie plus lots more comedians including the occasional surprise I'm not allowed to reveal. Britart favourites Jake & Dinos Chapman will be doing a special sercret thing and Stewart Lee, who was very supportive of Josie in her early days on the circuit, will be providing a piece of free publicly-funded art for all ticket holders. Whatever that means. You can read the original feature here, but as Josie had lots to say that we couldn;t fit in I'm uploading a transcript of this wide-ranging, frank interview here. Enjoy. And buy a ticket for the gig. This interview took place on 22/5 in the tiny Arts Emergency office in Kings Cross – they certainly arenlt squandering money on comfy furniture.
BD: What have you been up to?
JL: I'm just back from an Australian tour. I had to cut out the bit about Ed Miliband and Tescos but the rest I kept in and I just framed it differently.
BD: So, what is Arts Emergency? 
JL: It came about because of two reasons. I had a political epiphany thing a few years ago. I was living in Hackney and very comfortable and I was looking around and I felt like lots of people around were yuppies – "not like me I'm really political" – then realised I do nothing so I'm worse than everybody else. So I got more active and it coincided with the new government. I wanted to feel I was doing something positive and I'd met Neil (Griffiths, Art Emergency co-founder) at a benefit for No Sweat…
BD: What's that, a Climate Change Protest?
JL: No, Cheap Labour, fuck climate change we don't care about that!
We are both from north Kent and we were going to meet up in India. I sort of started trying to think of something I could do that was a good fit to what I love and we talked a lot about uni and how it changed us. I hate fees so much, the concept that it would be a personal debt, I'm furious that my posh friends don't have it and I do. I thought I know what I'll pay for ten kids to go to uni, then the more we talked about it the more it became bigger and more useful. The big thing was cutting the funding teach arts degrees, fully 100% privatising arts education. It feels like arts degrees are under threat, the prevailing opinion is that these things are worthless. It's inhibiting people and with courses closing down opportunities are lessened and the more we talked about it the more I wanted to help.
BD: Have you still got debts from your University years?
JL: I still owe £13,600 hanging over me, but it's the best loan you'll ever take out. But the Conservatives would rather everyone paid much more personally. They don't want people to feel security and a sense of entitlement.
BD: Do you think the1960s was the golden age, when grammar school children got the chance of a free university education?
JL: I think grammar schools are divisive, I went to a grammar school and I'm alienated from my family. I have a very different educational background to my siblings. I had a brilliant time but I don't think it's a fair system. I was lucky, but the real change comes from 50% going to uni. Jake Chapman (The Britartist who with his brother Dinos, is  involved in the Hackney Empire benefit) calls art college finishing schools for the rich.
So that's the first reason, wanting to help financially and the second reason for AE is that when I went to uni I didn't have any support network (her parents had divorced and her home life was difficult). I want to improve their experiences, for me it was such a leap to get there. When I got to uni I thought I could relax, but I needed support. Most people there are from good schools with lots of support. I want to find people in similar situations to me and give them the things I lacked.
BD: It's not just about handing over money then?
JL: The idea is to form an alternative old boy's network. We've already got 250 mentors, ranging from animators, historians, and TV people to Neil Gaiman and half the Guardian staff. People who do what they love for a living, signed up for this to be on call to the kids that we are mentoring then that young person sees them regularly and  takes them to galleries etc. Like if they say I wanna be a lawyer but what does that mean the mentor finds a lawyer they can meet up with.
I did a talk in Bristol, about how Oxford changed my life, how it gave me a sense of internalised privilege. I do want this great life, why can't I have it? Afterwards a
teacher said a girl came up to her and said she had decided to go to uni after meeting me. And a boy who has decided to be an architect has done work experience in Jake Chapman's studio and met an architect who has helped him.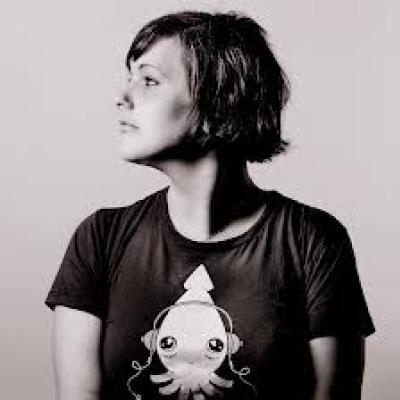 Bridget Aphrodite is a performance artist appearing at Hackney, we paired her with a girl who wants to be a rock star, but had no role models, But this is not X Factor bullshit, it's finding out how you can have a band and pay the bills. There was another girl who needed a C in her maths retake, we got her private tuition and she got the grade she needed on her birthday. It's so pure and marvellous meeting the kids you really get a feel for meeting their needs.
BD: Your mum sounds interesting?
JL: She is a school teacher and she has a kind of defiance. She was always trying to get me to be creative she used to say "we are the clever poor". Her solution to student debt was never earn it and you never need to pay it back! 
So I'm putting something back. I'm not earning much as friends out of choice, but I felt my life was a bit cushy. I was lucky and you do have a responsibility not just to please yourself. I was devoting my life to having a brilliant time I wanted to balance that. It's so hard when this govermenr is so beastly not to just be angry but to do something. 
BD: It's not the first support system though – I was reading recently about Lord Webber paying for a poor violinist to go to Eton?
JL: Yes, but that's the idea that he is rescuing someone, this is an equalising thing. That's like "you are in a shithole, we will get you out". Nowhere should be a shithole.
What I hope is that my generation definitely will be products of Thatcherism in ways we can't understand. I want travel and nice posh things but I want everyone to have a better standard of living. I say in my show that my dream is that you can study for free for as long as you want and the audience goes "as if" and I go "there is a place, it's called Denmark". There you can stay as long as you like, they value education.
BD: Aren't fees just a problem now because they are new? Won't people eventually think fees are the norm and accept it?
JL: I hate my debt and they will hate it. Young people in America hate it, they don't say it's a fact of life. 
Click on "Next" below for more Josie Long...