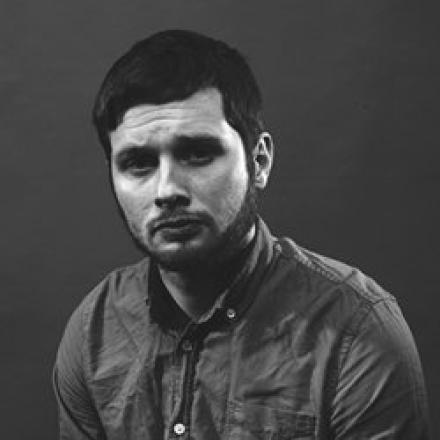 ****
I wrote earlier this week about how the scheduling of shows can be crucial to their success and that dysfunctional comedian Bobby Mair should have been booked into a late night slot at the Tron. Maybe he should swap with Liam Williams, who does have a late slot but might well work better in an earlier one. The night I saw Williams – one third of loopy sketch group Sheeps – there was a jolly middle-aged couple next to me who laughed and joked before Williams arrived then sat pretty stony-faced throughout his act, too polite to walk out but simply not getting it.
I presume they expected easily digestible pub basement stand-up, not intelligent offbeat storytelling. If you do get it though, Williams is wonderful. His monochrome press shot makes him look like some dour Russian poet and while there is a shard of deadpan Muscovite misery in his quasi-autobiographical show,  there is also a great love of language, a passion and palpable glee for words and how they fit together and make one smile.  And, by the way, Williams has a great resonant voice, redolent of a northern Matt Berry. If he lightened up he could probably make a mint doing a narration for action movie film trailers.
His show - no title,  just his name – takes us from life growing up in Leeds, via leaving school at 16, going to sixth form college and eventually becoming the man he is today.  Venn Diagrams are a well-worn Fringe cliche, but Williams subverts the notion with a knowing chart which pulls the rug from under the concept. His is certainly an original worldview, refusing to resort to the usual safety nets of lazy quips about Facebook and the Olympics. Williams prefers to reference JD Salinger and Sylvia Plath, though there is a bloody good gag about Ricky Gervais constantly going on about the non-existence of God on Twitter. 
Sometimes Williams recalls a fellow Leeds alumnus, Alan Bennett, only with less custard creams and more existential dread. He is so straight-faced at times you are not sure whether he is even joking. A reading of London dating tips from Time Out sounds perfectly believable at first until it spins off into surreal suggestions such as drinking cocktails in a tree. Elsewhere cuttings from his angst-flavoured novel jostle for your attention with ideas for a wilfully dotty BBC4 history documentary. 
In many ways this is the perfect, precision-tooled Edinburgh show, developing themes in a way that you would never be able to get away with in a 20-minute club set. Williams definitely deserves something – either a Newcomer Award nomination or a free session of therapy.
Liam Williams is at The Invisible Dot, London, N1 from Nov 1 - 9 (not Nov 3). Details here.