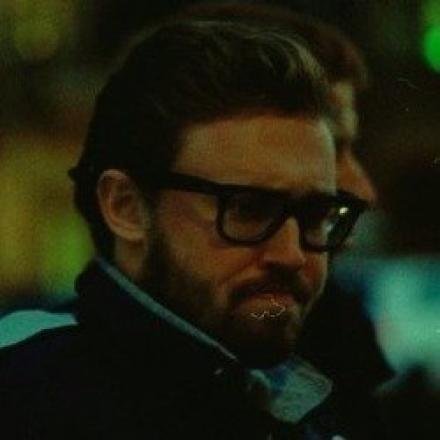 ****
I guess with John Kearns it is best to start at the beginning to get some sense of the lunacy. He comes onstage sporting a monk's wig complete with bald spot, dodgy false teeth that won't stay in and, if my memory serves me correctly, riding a dilapidated toy horse and dancing to Bruce Springsteen. Over the next hour there is certainly plenty of horsing about. Enough, in fact to win Kearns the Foster's Edinburgh Comedy Award for Best Newcomer yesterday against some pretty formidable opposition. Indeed, this show may be something of a game-changer. It is the first time a performer playing a free gig has bagged this prize. Who knows, maybe a free show will win the main Edinburgh Comedy Award soon?
Anyway, back to Kearns' delightfully nutty show. Sight Gags For Perverts (A Stanley Kubrick reference apparently) looks pretty thrown together but in the same way that Vic & Bob used to script their mayhem with ruthless precision I get the feeling that Kearns has put a lot of effort into his seemingly haphazard antics. Chatter and audience participation that appears, freewheeling, spontaneous and scary eventually turns out to have a more cohesive shape to it. Although there was one moment when Kearns' glasses flew across the stage which was clearly real – no knockabout comedian is that good.
A typical routine is Kearns' story about a post-break-up trip to Berlin. There are no jokes as such, but our hero puts his heart and soul into the saga and, on the afternoon I was there the audience member invited up to provide emotional support did his bit too. This is a show that one needs to buy into and fortunately Kearns has the charisma to get most of the audience onboard. Could anyone else get three men onstage to wiggle their bottoms to an instrumental version of Don't Be Cruel at five in the afternoon?
If there is a theme to the show it is the nature of modern masculinity, what it means to be a real man and how a man fits into the world, The finale involves all the men in the audience squeezing onto the tiny makeshift stage with Kearns, putting their arms around each other and, well, no spoilers here. It is similar to a trick Nick Helm brilliantly pulled off in his first full-length show and, in fact, Kearns combines a comparable Helm-like mix of self-pity – this is a man who even gets snubbed by automated hand-dryers – indignity and ridiculousness, adding a garnish of vaudeville to proceedings where Helm majors on pathos.
I've seen Kearns do other types of show and they have all involved strange flights of fancy. Sight Gags For Perverts pulls his imaginative ideas together for the first time. It is not always easy comedy, but neither is it pretentious meta-comedy, which was a bit of a theme on the Fringe this year. Spike Milligan, Vic & Bob, John Kearns. Say hello to comedy's latest lunatic.