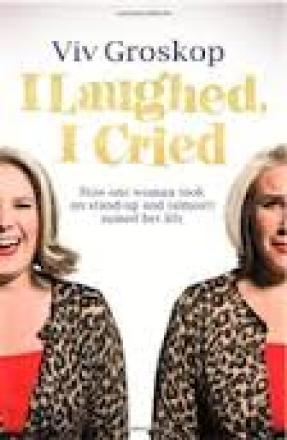 Viv Groskop had a good job in journalism, nice friends, a lovely family. So why did she decide to go and spoil it all and get into stand-up comedy? This is one of the key questions she asks herself in I Laughed, I Cried, a kind of Fever Pitch for the World of Funny. And after dithering about on the stand-up fringes for a while Groskop didn't just dip her sparkly trainer-clad toes into stand-up, she decided to do 100 gigs in 100 days, putting a strain on her marriage and her health. She tells the story of her century of chuckles with style, insight and, naturally, plenty of gags.
The obvious explanation is that Groskop was going through a midlife crisis. She had been a bit of a show-off at school, adored Doris from Fame and now that she was around forty it was time to shape up or ship out, shit or get off the pot, stop sitting on the fence, etc. Having read various theories that the way to make a change in your life was to do something intensively she opted for a full-on assault on the comedy circuit to find out once and for all if she could cut it.
For anyone au fait with this world a lot of this may be familiar. The incredible highs. The incredible lows. The lonely late night treks across London. The promoters with wandering hands (names are changed to protect the not-so-innocent) and the punters who at worst say "I don't like women comedians" and at best say "you are very funny…for a woman." Groskop experiences everything a novice comedian might expect, except, maybe for a nocturnal kebab – her vices are Diet Coke and onion rings.
Alongside potted reviews of each gig the book gets more interesting when we get into Groskop's personal life. Quite how her husband puts up with her leaving him almost every night for over three months is beyond me. I presume she has promised him 100 nights of uninhibited sex in return or something. She also has to explain what she is up to to her children, who, like her husband Simon, also seem supportive, particularly when she brings home tiny egg-cup sized trophies..
Groskop is clearly some kind of superwoman. As well as the gigs, she also simultaneously managed to hold down a freelance journalism career. Her devotion to the quest and energy levels are astonishing. At one point she flies to Atlanta in an attempt to interview Oprah Winfrey. The interview doesn't happen but she still squeezes in a couple of sets to keep her numbers up. (lovely daytime gigs at Lucy Porter's mums and toddlers club also helps to keep the stats up when evening gigs get cancelled).
As her "Directionless Comedy Binge" progresses, so does Groskop as a comedian. We can see that if the good gigs don't dramatically outnumber the stinkers at least the numbers even up. As the self-inflicted challenge builds it gradually turns into great against-the-clock story. You could imagine Dave Gorman turning this into a terrific show. In fact it could also make a great movie. Kristen Wiig in the lead role, naturally.
Comedy is a tough, emotionally-charged business where you bare your soul to strangers on a nightly basis. Jenny Eclair once showed me her post-gig notes and I couldn't read a bit that was smudged. "That was when I was crying onto the page," explained Eclair. Groskop clear has balls of steel to do what she did and it makes a great read. I've only ever caught her doing a short set onstage once and if I was completely honest she is possibly a better writer than a stand-up (though Viv did tell me that I saw her on a bad night, so I should really see her again!). Which is not to say that she is a bad stand-up at all, just that she is a brilliant writer. Forget the glamour of Live at the Apollo. This book tells you what stand-up comedy is really like in the trenches when the dressing room is a toilet – if you are lucky.
Buy I Laughed, I Cried here