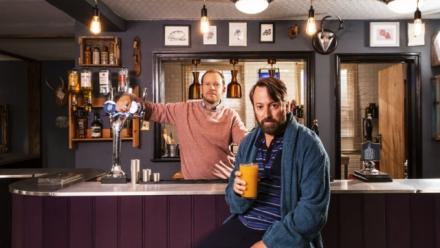 Now this is more like it. At the risk of sounding like a fogeyish version of the David Mitchell character in Peep Show/real life this is a proper good old grown up comedy. Not really a sitcom at all though judging by the first episode of the second series, but hang around, there is definitely humour to be sniffed out here. 
At the end of the first series uptight Stephen (David Mitchell) was in a therapy/rehab/clinic sort of place. Had his long lost foster brother/nemesis Andrew (Robert Webb) manipulated the situation to his own advantage and got him locked up? Everyone seems to warm to the easygoing Andrew. But is he even a genuine foster brother or a total Brimstone and Treacle evil Satanic interloper? Sociopath or Dragon's Den whizzkid? The ambiguity continues.
Writer Simon Blackwell has done a pretty thorough job here. Particularly with a gag about whether the plural of Cup A Soup is Cups A Soup or Cup A Soups. Great supporting cast too, including Penny Downie is a weed-smoking free spirit mum Ellen and Geoffrey McGivern as the free-swearing uncle Geoff. 
There's lots of fun to be had here as Stephen returns to The John Barleycorn, the old school village pub he sort-of inherited. Though he still has trouble with his feet that have become like sort-of escalops, as wide as they are long. But his feet aren't the only problem. There's an ongoing power struggle ahead of him in the pub. And even a rival trendy pub, called, erm, P:ub. Cue jokes about colons and much more. 
Back, C4, Thursdays from January 21, 10pm
David Mitchell and Robert Webb are on The One Show on Thursday evening discussing the series and Robert Webb's recent brush with the Grim Reaper when it turned out he had a serious but undetected heart problem.
Picture: C4