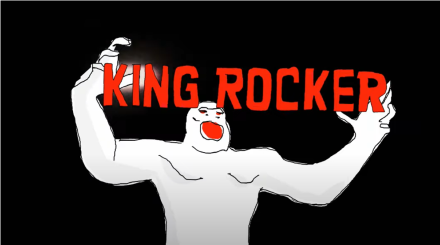 Free-to-air channel Sky Arts is to air King Rocker, the film about legendary indie band The Nightingales made by Stewart Lee and director Michael Cumming (Brass Eye, Toast of London).
In the film they investigate a missing piece of punk history: 
Robert Lloyd
, best known for fronting cult Birmingham bands 
The Prefects
 and 
The Nightingales
, has survived under the radar for over four decades.
But how, if at all, does Robert want to be remembered?
The anti-rockumentary 
King Rocker
 weaves the story of Birmingham's undervalued underdog autodidact into that of the city's forgotten public sculpture of King Kong, eschewing the celebrity interview and archive-raid approach for a free-associating bricolage of Indian food, bewildered chefs, vegetable gardening, prescription medicines, pop stardom and pop art.
The film features John Peel, Frank Skinner (who may or may not have auditioned for the band, watch the doc to find out...), Nigel Slater, Confessions star Robin Askwith, Samira Ahmed, Gina Birch, Marc Riley, Danny Fields, John Taylor, Paul Morley, Fuzzbox, The Actor Kevin Eldon, Nish Kumar, Bridget Christie, Andrew O'Neill, Seann Walsh and more. 
 KING ROCKER: A film about Robert Lloyd and The Nightingales will air on the free-to-air channel Sky Arts on February 6 at 9pm.

Watch a trailer below