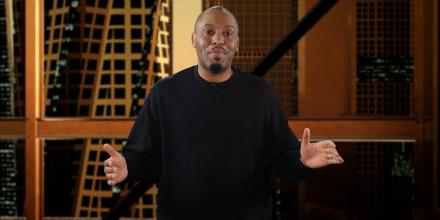 Comedian Dane Baptiste has been an articulate voice about race and representation in the media in recent years. He also seemed to suggest that there were viewers in outer space watching Channel 4 when he appeared on Sunday Brunch recently. The latter theory doesn't really crop up in Bamous, his new BBC Three one-off, while the former, more important issues are foregrounded to brilliant comic effect.
Baptiste frames Bamous with his concept of the NASBLAQ, a mythical, ever-shifting stock index of the most prominent and up-and-coming black talent in the UK. Marcus Rashford, Stormzy and Idris Elba are up there around the top while Baptiste lurks in the doldrums somewhere between Guy Goma and Howard from the Halifax adverts. 
The sketches between Baptiste's straight-to-camera routines expand on the idea that the media has continuously marginalised or misunderstood black talent, either ignoring it completely or scheduling it after most people have gone to bed. In one skit set in the 'Fleabag' room at the BBC (strong echoes of W1A here) a group of white media types attempts to come up with new post-BLM ideas with Baptiste sitting in and getting equal-parts patronised and exasperated.
Elsewhere Munya Chawawa shows us the rules of Bamous Bingo, rattling through a raft of racial cliches and pointing them out, while Thanyia Moore and Toussaint Douglass have their own mini talent showcases within the show which should win both of them more fans.
There's a lot going on here, with digs at Little Britain blacking up and some toe-curling clips of pre-woke now unacceptable language from programmes including Grange Hill (I wonder if there will be a warning before this airs on BBC One). 
Alongside the gags about waiting for Lenny Henry to die before you can catch a break ("It's my turn") and being mistaken for Richard Blackwood, there is a serious message. Baptiste talks about white privilege, seeing things through a white lens that is so biased you can think that the BBC is actually pushing a black agenda.
Bamous could not come at a more timely point, with the comedy.co.uk awards recent poll being criticised for featuring so many white nominees. This is not reflection on the awards, more a reflection on the way comedy is still dominated by white faces. Bamous goes some way towards redressing the balance. Commissioning a series and airing it at a more prominent time on a more prominent channel would redress the balance even more. 
Bamous, BBC Three/iPlayer. Also on BBC One, 10.45pm Tuesday 19th January.