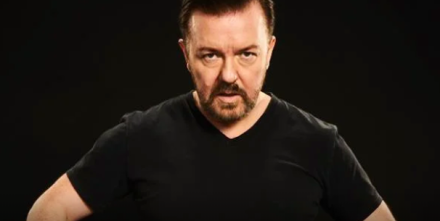 Ricky Gervais wants to be fed to lions after he has died.
In an interview with US talk show host Conan O'Brien this week he said that he would like to do it do support the animal kingdom. "I though it would be good to be just fed to lions at London Zoo...everything we do is for us, we are not even food for other things."
Unfortunately his offer to London Zoo has been declined. According to The Sun Kathryn England, Chief Operating Officer of ZSL London Zoo said: "I suspect Ricky may be a bit gristly for our lions. But we are struggling financially because of lockdown so if anyone wants to 'give something back' we welcome donations that will help us keep our lions fed on a more suitable diet."
Gervais added: "Also I'd like the look on the tourists faces when they throw this dead fat, naked 73 year-old – if I'm lucky – to the lions and as it lands some people go, 'is that the bloke from 'The Office? What, Steve Carell? No the original Office.'"
He also confirmed Kathryn England's suspicions and suggested that if he was fed to the lions they would get a surprise. "If two lions went for my testicles they'd be in for a shock because they are really gristly." 
Gervais is a well known animal rights supporter. He regularly posts pictures on his Twitter feed condemning hunters who kill animals for sport. He also posts pictures of his latest cat Pickle. He adopted Pickle last year after his previous cat Ollie died.
The subject came up after O'Brien praised Gervais for tackling the taboo of death in his hit Netflix series After Life. Gervais has been writing a third series of the acclaimed comedy during lockdown.
Gervais said he didn't care about dying but didn't want to die an embarrassing death and mentioned the story of the MP who was found dead with an orange in his mouth after masturbating. Gervais said he wasn't into that sort of thing so if he was found like that it would mean his friends had stitched him up.
Watch Ricky Gervais on Conan below