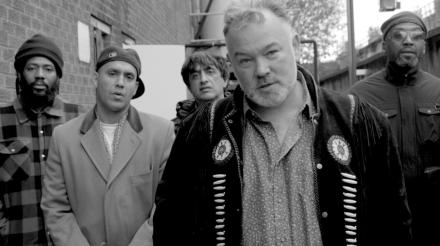 The Asian Dub Foundation song featuring Stewart Lee has made it to number one.
Before Christmas the band launched a campaign to make the track, Comin Over Here, the first number one on January 1st as soon as Brexit kicked in and it appears to have worked. Although Wham's Last Christmas topped some charts, the ADF song topped the official download charts. 
And in the official Top 40 chart show on Sunday January 3 they were number two, one place behind Ed Sheeran. 
A Facebook post said: "Well done everyone, we raised a collective middle finger in the air to racism...to bigotry...and to sheer ignorance on Brexit Day
"Comin' Over Here has *officially* sold the most units this week according to the
- - - - - - - -
ALL of the band's profits will be donated to
Kent Refugee Action Network (KRAN)"
The band has not stopped their campaign though. They tweeted: "Charts or no charts this mustn't stop. Keep buying the track, keep raising money for Kent Refugees, and keep sharing a tune that allows you to both shake your fist AND laugh at the Brexit bigots. BUY HERE!"