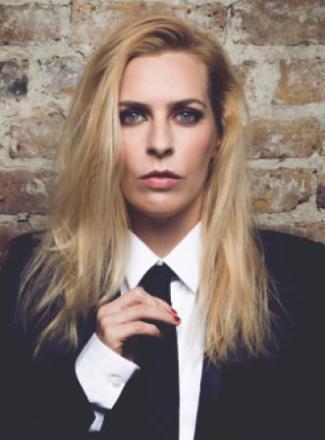 Sara Pascoe's LadsLadsLads marks a change of image and direction. Out goes neutral stage-wear, in comes sparkly top and fishnet tights. The material is less political, more personal, as we hear about the panel show regular's eventful life since breaking up with fellow stand-up John Robins.
The engrossing monologue begins with Pascoe cheerily recalling a doomed trip to a Costa Rica yoga retreat. Things were destined to go pear-shaped from the moment she realised she was on a 14-hour flight and not heading to somewhere near the Costa Brava.
A solo Valentine's Day jaunt to Paris also ended badly. She was not in search of romance, but the city lacked the zip she hoped for. She has had dates though. One ageing admirer attended a show and dozed off during her gig – at least he wasn't dead.
Sara Pascoe is amusingly thoughtful throughout, particularly when discussing sex and her attempts to conceive. And she is still fighting the feminist fight. She hates the fact that men invariably pay for dinner on C4's First Dates and reveals her inventive balance-redressing initiative.
LadLadsLads is a funny, heartfelt dispatch from the ever-growing Sara ascoe camp. And rather neatly John Robins is currently presenting his own post mortem also at the Pleasance. There are usually two sides to every split. Not usually two shows.
This is a review of Sara Pascoe's Edinburgh Fringe show 2017. A version of this review first appeared in the Evening Standard here.
Sara Pascoe has a new travel show on BBC Two starting in December 2020.
Footnote: A version of this acclaimed show is due to air on BBC Two on Sunday, December 27, 2020 at 11.20pm. It was first performed in Edinburgh in 2017, the same year that her former boyfriend ,John Robins was joint winner of the Edinburgh Comedy Awaed.
This has been an interesting 2020 for Sara Pascoe, who married her boyfriend, Australian comedian Steen Raskopoulos during lockdown. She also has a dog called Mouse.