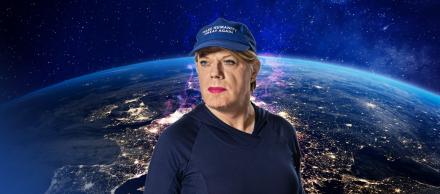 Eddie Izzard is now she/her and fans have shown their support.
Izzard was speaking on Sky Arts' Portrait Artist of the Year and explained to the person about to paint her that this was the first time she had said she wanted to be described with the pronouns she/her on a TV appearance.
Fellow comedian Shappi Khorsandi tweeted: "Morning! I see Eddie Izzard is trending. I can't tell you what she means to me as a comic. Rocked my comedy world when I was a teen and beyond. Changed everything, made room. I love her and this morning I'm very happy for her. #ohhSherlockHolmes."
Sofie Hagen tweeted: "I've been reading people's reactions to Eddie Izzard using she/her pronouns and I LOVE LOVE LOVE this collective gender euphoria we all feel towards her. Either because we feel represented, because we know how freeing it feels saying it out loud or just because we're nice people. Imagine hearing the wonderful news that someone is publically asking for a change of pronouns and feeling nothing but anger. I can't imagine being that void of emotional intelligence and empathy."
Izzard is due to appear at the Riverside Studios in London throughout January performing a mixture of shows in English, French and German. It is not clear at this stage if the gigs will now go ahead following the move to Tier 4 but there were plans to stream them anyway so even if they cannot take place in person hopefully they will take place online. Details here. 
Izzard is also planning to run a marathon every day in January on a treadmill. She said: "There is too much talk of division in the world. Too much talk designed to pull us apart. In my life I try to look for the opposite - to look for what brings us together, which helps make us all stronger. Working together feeds the spirit that can restore the greatness to humanity.
'Make Humanity Great Again' stands for unity, the sharing of beliefs and the power of human beings uniting across the continents and around the world. As a campaign, it seeks to promote a fair chance in life for all, particularly those who experience disadvantage and discrimination.
It speaks to people who believe there is more goodwill than ill-will in the world, who believe in the positive qualities of humanity and in the Golden Rule - to treat other people the way you would like to be treated yourself. This is a time to look forward, to work together, to be tolerant and to live and let live.
Which is why, when hope in the real world seems far away, that I begin this run in our locked-down world. I will attempt to run (on Zwift) 31 marathons, and then perform 31 stand-up shows, in 31 days - to raise money to give to charities that Make Humanity Great.
Join me…"