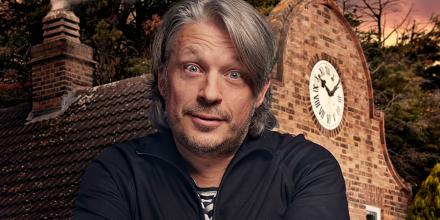 Richard Herring has been crowned champion of Taskmaster.
He beat off stiff competition in the first series broadcast on Channel 4 (it was formerly on Dave) from Daisy May Cooper from This Country, Johnny Vegas, Mawaan Rizwan and Katherine Parkinson.
In the run-up to the final episode, entitled Dog Meat Trifle, Herring had won four episodes, Daisy May Cooper had won two episodes, Parkinson, Rizwan and Vegas won an episode each. Daisy May Cooper was in the overall lead during the final before being overtaken by Herring. As it came to the final game there was only one point in it, but Daisy May Cooper had a meltdown trying to build a spaghetti bridge between two coconuts. Herring overhauled Daisy May Cooper and won the series, 162 to 158 points.
This means that the comedian who first made his name working with Stewart Lee in the 1990s, will now have the chance to take part in the next Taskmaster Champion of Champions contest alongside the winners of the previous four series. Having recently been crowned victor of series 10, Richard Herring  will join fellow champs Liza Tarbuck, Kerry Godliman, Lou Sanders, and Ed Gamble to battle it out once more.
The winners of the first five series were Rob Beckett, Josh Widdicombe, Katherine Ryan, Noel Fielding and Bob Mortimer.
As ever, Greg Davies will be perched on his regal throne as the Taskmaster for this special show, while the doting Little Alex Horne scuttles about his master's feet generating stats, measurements, and generally irritating his keeper, as these task titans compete in the ultimate quest for victory. Transmission date is yet to be revealed.
Richard Herring has had a chequered history on TV game shows, losing on Pointless and Celebrity Mastermind, even though inthe latter show he briefly held the record for the highest points on the show until the winner beat his tally.
He is due to take part in a seasonal special celebrity edition of The Chase on Boxing Day on ITV1 alongside Tim Lovejoy, Kay Burley and Eni Aluko. Fellow comedian Paul Sinha will be one of the Chasers.
Herring recently published his latest book, prompted by his annual Twitter responses to men asking when is International Men's Day.
The Problem with Men: When is it International Men's Day? (and why it matters) is published by Sphere. Buy it here.
Picture of Richard Herring: Avalon