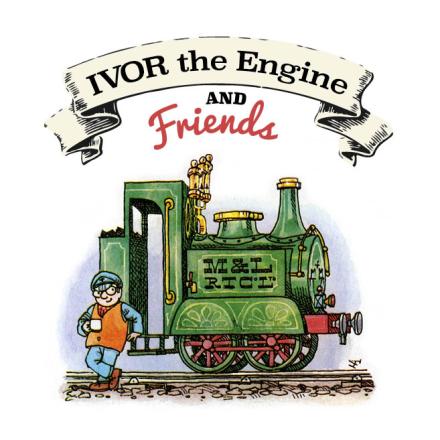 Eddie Izzard, Rob Brydon and Rhys Ifans are among the prestigious names that have lent their storytelling talents to a new Ivor The Engine audiobook of timeless tales. 
All the proceeds from the sale of the audiobook, produced by newly launched production company Quintet Pictures, will go to LATCH, a charity that supports the children and their families who are being treated at the oncology unit of the Children's Hospital of Wales. The audiobook, entitled Ivor The Engine and Friends, is available to stream & download on the major audio platforms, including Spotify, YouTube and Amazon, from 17th December. 
The audiobook was made completely virtually, during Covid lockdown, using just iPhones and good will. From Gloucestershire to Essex, from Whitstable to Aberystwyth, from Notting Hill to Dorset via Abergavenny, Llangollen, Cardiff, and … Los Angeles. The project also called upon Welsh Rockmen The Manic Street Preachers' very own Producer Dave Eringa, to open his Daveyland Mixing Studio in Harlow to help out the team.
The audiobook marks the 61st birthday of Ivor The Engine, originally created by  UK animation legends Oliver Postgate and Peter Firmin. Stories and narrators featured on the audiobook include:
1) Bluebell's Christmas Mission: Daniel Postgate
2) The First Story: Rob Brydon
3) The Foxes: Eddie Izzard
4) The Dragon: Cerys Matthews  
5) Ivor's Birthday: Rhys Ifans
6) Ivor's Friends: Georgia Ruth
7) Snowdrifts: Oliver Postgate
Daniel Postgate, son of Oliver Postgate - co-creator of Ivor The Engine - commented on the launch:
"Ivor The Engine was my father's first television series and it was his favourite. It emerged from his love of Wales and the poetry of Dylan Thomas. Now, with the help of magical contributions from the great and the good of Wales — including Georgia Ruth, Cerys Matthews, Rob Brydon, Rhys Ifans and honorary Welshman Eddie Izzard — we've put together some lovely storytelling from Ivor's classic adventures. There's also a story read by the great man himself, my dad, and a new story written and read by me. If any money should come from this curious venture — and we hope it does — we'll send it all to LATCH, a wonderful children's cancer charity based in Wales."
Welsh stars who have participated in the project have further added their joy to have taken part in such an iconic production.
Actor, producer and musician Rhys Ifans said: "It was a pleasure to read 'Ivor's Birthday' and help support the wonderful work of LATCH".
Singer, songwriter, author and broadcaster Cerys Matthews MBE, noted: " A huge thank you to everyone for supporting this charity edition of The Dragon and Nadolig Llawen !
Welsh singer-songwriter, broadcaster and harpist Georgia Ruth added: "Oliver Postgate's stories were the soundtrack to so many childhoods, so it was a joy to get a chance to read one myself and help a really deserving charity at a difficult time."
You can access the audiobook across a variety of streaming sites here: http://bit.ly/3nz86PX 
Anyone who enjoys the stories can also donate to LATCH here: https://www.justgiving.com/fundraising/IvorTheEngineChristmasStories