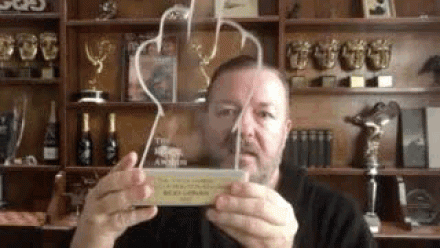 The winners of this year's annual Finger Awards will be announced on Friday, December 4 at 4pm at an online ceremony.
In advance of the ceremony it has been announced that Ricky Gervais has been awarded a 'special contribution to comedy' Finger Award.
The Awards were created last year to honour outstanding comedic projects with social impact. More than 100 nominations have already been received from 30 countries — a 25% hike on the first edition of The Finger Awards in 2019.
The winners of the 2020 Finger Awards will receive their awards virtually during Content London, hosted by TV trade publishing platform C21 Media, on December 4, 2020. The event will be again be hosted by former senior TV executive turned comedian, writer and broadcaster, Cally Beaton.  
Launched by comedy writer and creative director Omri Marcus, The Finger Awards were created to celebrate comedy professionals who have used their craft to make the world a better place. This year's event will again be judged by an international panel of top industry professionals, all of which are members of the Comedy for Change community, which strives to effect social change through the medium of humour. 
The 50 senior comedy writers, performers and executives on the 2020 judging panel hail from some of the world's top comedy shows, including The Simpsons (US), Greg News (Brazil), Neo Magazin (Germany) and Shabas (Israel).
The first edition of the Finger Awards attracted 80 nominees from 30 countries. The candidates were drawn from across the comedy spectrum, including stand-up, trolling acts, TV shows, ad campaigns and podcasts, addressing an equally wide range of issues, from gender equality through racism to political corruption and climate change. 
Global TV consultancy K7 Media will again serve as headline sponsor for the 2020 Finger Awards, which have been expanded to include an additional special COVID-19 category to reflect the global challenges encountered in 2020.
Omri Marcus, founder of Comedy For Change community and director of the awards, said: "There is no way to survive 2020 without some humour. It can help explain complicated issues, encourage safe behaviour and ease the tough days. Comedy has never been more critical than in 2020. It's a creative tool to push institutions, politicians and nations to re-think topics and make urgently needed changes. The Finger Awards honour those who have mastered that craft and share their achievements — no matter where on the globe they are. From race, gender, environmental issues and more, if you are using comedy to make it better, we want to finger you."