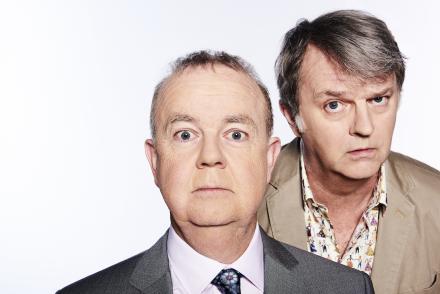 Have I Got News for You is 30 years old this year. To mark this significant anniversary Have I Got 30 Years for You celebrates the best of the last the three decades of the show with Paul Merton and Ian Hislop - the battles, the bust ups, the guest hosts, the departure of Angus Deayton, seven prime ministers, five presidents and a tub of lard.
With contributions from Paul Merton, Ian Hislop, Germaine Greer, Gary Lineker, Victoria Coren Mitchell, Ken Livingstone and Alexander Armstrong plus memorable archive moments from 30 years of Britain's best and longest-running topical news quiz on a Friday night.
Have I Got 30 Years for You is made by Hat Trick Productions. It was commissioned by Kate Phillips, Acting Controller BBC One and Jo Wallace, Acting Controller Entertainment Commissioning. The Commissioning Editor is Ruby Kuraishe and the Executive Producer is Richard Wilson.
One person missing from the talking heads is original host Angus Deayton, who left the series after a tabloid scandal. The presenter, dubbed Mr Sex by Tina Ogle of Time Out, was reportedly invited to be interviewed but declined.
Have I Got 30 Years for You, Thursday, December 24, 10.15pm, BBC One. 
Picture of Paul Merton and Ian Hislop (but not Angus Deayton: Hat Trick