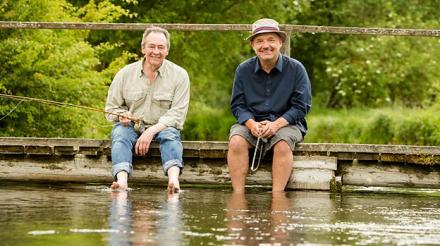 This hour-long Mortimer & Whitehouse: Gone Christmas Fishing follows Bob Mortimer returning to his childhood roots in Middlesbrough where he will fish the River Esk and Tees with his dear friend and angling mentor Paul Whitehouse.
As well as trying to catch the glorious Grayling, Bob Mortimer is also going to try to ignite the joy of Christmas in Paul, who thinks the magic of the season has been lost to commercialism.
Bob will host their office party for two, help cook a memorable Christmas dinner and together they will chat to fellow Middlesbrough lad Chris Rea. They also meet Laurie, from a national charity organisation, who tells us how we can all look out for lonely people over the holidays.
Will Paul finally see the magic of Christmas through Bob Mortimer's eyes? A very big surprise at the end of the program/ me could guarantee it!
The programme will also feature a guest appearance from Chris Rea - but will he be driving back home to Middlesbrough for Christmas? Bob Mortimer famously told a story on Would I Lie To You (aka WILTY) about Rea advising him to crack a raw egg into his bath. It's at this point in the article that I feel duty-bound to link to some of Bob's finest moments on Would I Lie To You? here.
Mortimer & Whitehouse: Gone Christmas Fishing, a 60' special for BBC Two, is made by Owl Power. It was commissioned by Patrick Holland and Catherine Catton. The Commissioning Editor is Max Gogarty and the Executive Producer is Lisa Clark.
Watch Bob Mortimer and Paul Whitehouse on catch-up here.