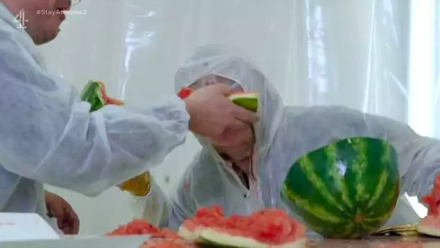 I was a bit worried when I heard that there was a task that involved watermelons in the latest episode of Taskmaster on Channel 4. There was a watermelon challenge in the very first episode, back in 2015, when the challenge was won by Frank Skinner.
So watermelons again? Was the programme running low on ideas? No chance. Contestants had to eat as much as possible without holding their own watermelon and Richard Herring and Daisy Cooper's scene – filmed before social distancing – was truly historic and unique as well as truly messy. Cooper ploughed into her melon with such a frenzy it looked as if she was a feral animal tucking into raw meat. She was so busy eating she almost forgot to feed Herring. Watch below, but maybe not while you are eating.
Taskmaster, C4, Thursdays at 9pm.
Picture: C4/Avalon