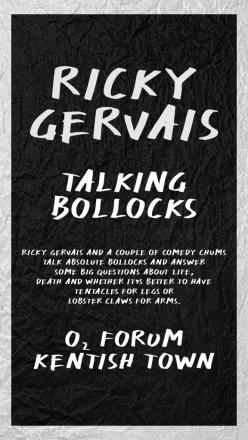 Update 1/11: Ricky Gervais has tweeted that in the light of the imminent new lockdown the "talking bollocks" gig on November 8 won't be happening. His November 10 SuperNature gig has also been cancelled, although the November 3 show will still take place. Contact ticket purchase point for refund info. 
The two new Ricky Gervais gigs at the 02 Forum on November 3 & 10 sold out immediately today as expected.
Gervais tweeted: "So apparently they sold out immediately. Not sure how that's possible but thanks to everyone who bought tickets and also to everyone who tried. Don't buy from touts. I'll do more."
New dates for his stand-up show haven't been announced yet but he has announced an afternoon show where he will be "talking bollocks" and will be joined by guests to, erm, talk bollocks.
He tweeted: "Gonna try a Sunday matinee of #TalkingBollocks Live with a couple of other idiots on the 8th of November. 2pm, socially distanced, absolute shite. Tickets on sale Monday."
Talking Bollocks will take place at the same venue as his stand-up shows, the 02 Forum in Kentish Town. Tickets will go on sale on Monday, November 2, here.