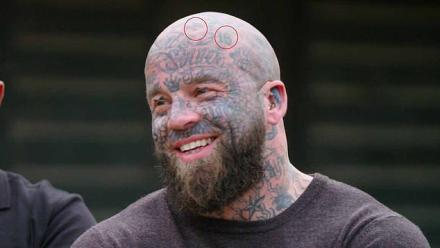 The Sky History show hosted by Lee Mack that became embroiled in the recent "Nazi Tattoos" scandal has been axed, according to The Sun.
The Chop got into hot water last when when it was alleged that some of contestant Darren Lumsden's tattoos had right wing meanings. It was initially claimed that the '88' tattoo marked the year his father died, but it turned out that his father was still alive. 88 can be interpreted as a reference to 'Heil Hitler' as H is the eighth letter of the alphabet. 
An A+E Networks  spokesperson said: "Following an independent investigation, AETN UK has made the decision not to broadcast any further episodes of The Chop on Sky History. A contestant's tattoos included symbols that could be connected to far-right ideologies and could cause offence; we sincerely apologise for that and we are sorry that our processes did not prompt further investigation at an earlier stage."
The Chop was only recently launched to find Britain's top woodworker.
Picture: Sky