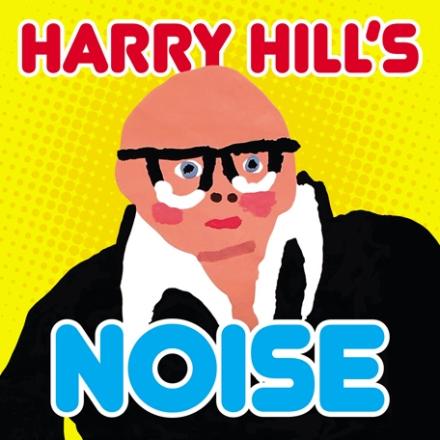 Harry Hill is launching a brand-new podcast that provides the perfect antidote to…podcasts. These days podcasts have their own podcasts, every man and his dog's dog has one and you're never more than six feet away from a podcaster. This is the global emergency nobody seems to be speaking about.
Everyone's favourite floppy collared loon has, therefore, taken it upon himself to quell the tide with the launch of Harry Hill's Noise, an 8-part series with weekly episodes released on all podcast platforms from Tuesday 27th October.  
Harry Hill's Noise sees Harry Hill in a different location every episode and at some point, he'll make a noise. It's your job to predict the nature of Harry's noise and when he will make it. After Harry has made his noise he won't be making any further noises. 
Part relaxation tape , part high concept tomfoolery, this is an all-round immersive audio experience – the perfect ambient accompaniment to whatever it is you're doing - with the added attraction of..….a bespoke noise.…
Harry Hill said: "In a world full of so much noise - where else can you guarantee that you'll only hear one? I can't think of a more effective way to combat the growing crisis."
Harry Hill's Noise is a Lucky Features and Plosive production, with music by Steve Brown and artwork by Harry Hill. 
TRAILER ON THIS LINK HERE
PODCAST LINKS: 
Apple: https://podcasts.apple.com/gb/podcast/harry-hills-noise/id1535626300
Acast: https://play.acast.com/s/harry-hills-noise
Spotify: https://open.spotify.com/show/3xsswtScf6veQt8TrAh9ek?si=TrsYpbtjR_qrnPPGLEYc-g
EPISODIC BILLINGS AS FOLLOWS: 
Tue 27th Oct: Ep 1 "The Office"
Tue 3rd Nov: Ep 2 "The Workshop"
Tue 10th Nov: Ep 3 "The Garden"
Tue 17th Nov: Ep 4 "The Car"
Tue 24th Nov: Ep 5 "The Brisk Walk"
Tue 1st Dec: Ep 6 "The Beach"
Tue 8th Dec: Ep 7 "The Breakfast"
Tue 15th Dec: Ep 8 "The Farm" 
HARRY HILL'S NOISE WILL BE RELEASED WEEKLY ON ALL PODCAST APPS FROM 27TH OCTOBER