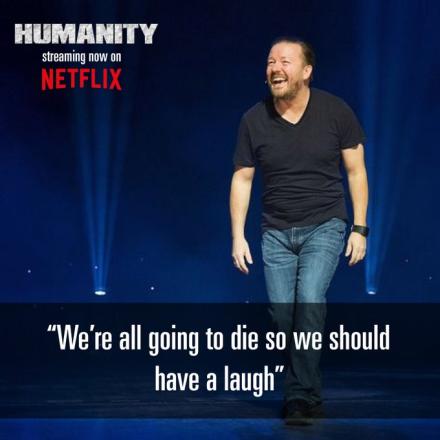 Ricky Gervais has tantalised his fans by asking them if they would go to see him if he did a socially distanced gig.
He tweeted: "If I were to do one of these socially distanced gigs in London, would you come along?"
The answer was mostly yes.
Teresa Parry tweeted: "I had tickets to come and see you on the 14th @rickygervais, I'd have still been up for coming if the Palladium hadn't postponed. So yes, I'd come!"
Alexander CW tweeted: "Absolutely. Got tickets for Super Nature and I cant't wait to see you live again. Whenever it is safe to do so it'd be a great honour to be there."
A Writer's Nook tweeted: "Two weeks quarantine as I enter the UK. Go to the show. Two more weeks quarantine as I reenter Australia. That's a months quarantine just to see your show. Yeah, why not. You better make it a good one."
Others did wonder whether they would go to a gig right now and others asked him if he could live stream it. But Gervais would certainly have no difficulty filling a venue such as the Clapham Grand which has staged socially distanced shows with the likes of Russell Howard and Jimmy Carr.
Gervais was due to start a twelve-night run of his latest show SuperNature at the London Palladium on October 7 but the dates have been postponed. The website says: "The new dates are yet to be confirmed, however your tickets will remain valid. As soon as we have confirmation of new dates, we will be in touch. If you have any queries, please contact your point of purchase. We are sorry for any disappointment and inconvenience this may cause. Thank you for your understanding."